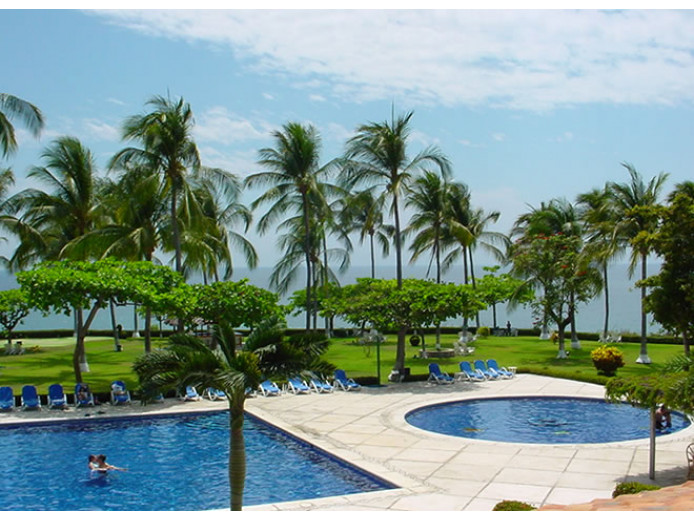 On the serene shores of Puerto Escondido, a peaceful retreat awaits. Posada Real Puerto Escondido resort hotel is a sanctuary of tropical tranquility where guests easily melt into the laidback lifestyle of old Mexico. Located in the picturesque fishing village of Puerto Escondido in Oaxaca, Mexico, Posada Real is a full-service beach front resort hotel that offers onsite dining, two swimming pools, beach club, tennis court, putting green, beach volleyball, mini soccer, vacation packages and many other delightful extras for a memorable family vacation, a romantic honeymoon or relaxing getaway. At Posada Real Puerto Escondido you can chose between two different lodging options: "Drinks Inclusive", including room accommodations and a selection of domestic alcoholic and non alcoholic beverages, such as lemonade, soda pop, beer, wine and cocktails served free of charge at our bars and restaurants from 11:00am to 10:30pm., and the "All Inclusive" option, including all of the above plus snacks and delicious breakfast, lunch and dinner served in buffet style at our main hotel poolside restaurant or at the beach club.
Puerto Escondido Oaxaca Hotel
Puerto Escondido Hotel Vacation Packages.
Experience interesting attractions and discover fun things to do in Puerto Escondido. Posada Real Puerto Escondido vacation packages offer exceptional deals on tours and activities such as deep sea fishing, spa treatments, surfing and eco tours. We also offer romantic honeymoon packages. Reserve your packages online for the best rates and availability.
Posada Real Puerto Escondido