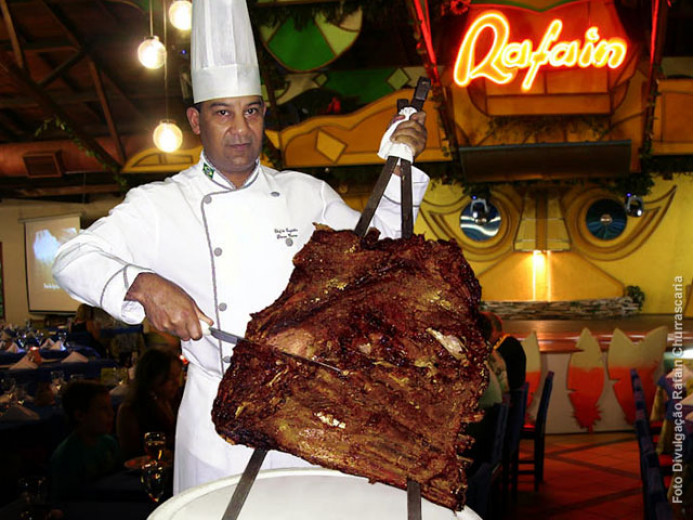 Enjoy a five-star meal combined with a fascinating orignal Latin-American dance show!

In the evening you will be picked up at your hotel and brought to the restaurant.
At 8:45 pm the amazing folkshow with artists from all over South America will start.
You will get to know traditional dances from Brazil, Argentina, Peru, Chile, Paraguay and Mexico!

You can eat from a large buffet with all kinds of food - not only traditional from Brazil but also international dishes!
Furthermore they offer a huge buffet of desserts - cakes, mouses, ice-cream and lots of tropical fruits!
You won't be able to eat everything you want to - they offer just too much!
After the show you will be taken back to the hotel.

Rafain Show + Dinner + Guided Transfer
PayPal
You can pay by simply choosing PayPal at checkout
Do you have questions?
Call us right now to get your questions answered.
Excursion
Booking Code:

rafain

Availability:

Available for Booking
entrance fee + transfer - Prived Type
with guide
Please choose your preferred languages:
Price
From Pax
To Pax
Title
Description
$165.00
1
1
$120.00
2
2
$117.50
3
3
$112.50
4
4
$111.25
5
10
$108.75
11
20
$101.25
21
30
entrance fee + transfer - Prived Type
with guide
Please choose your preferred languages:
Price
From Pax
To Pax
Title
Description
$165.00
1
1
$120.00
2
2
$117.50
3
3
$112.50
4
4
$111.25
5
10
$108.75
11
20
$101.25
21
30