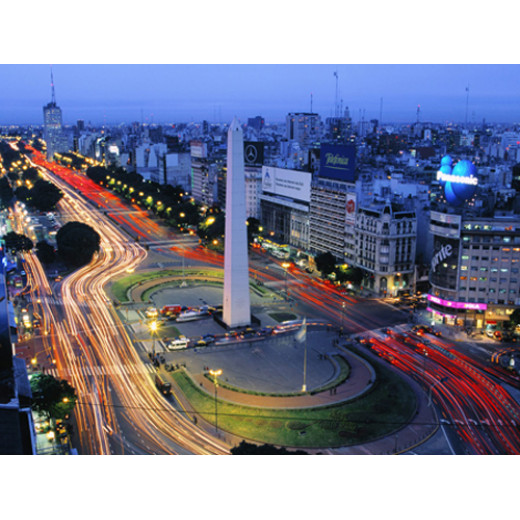 Buenos Aires & Salta

Price in USD per person 2439 U$/person ( based on 2 people travelling)

| | | |
| --- | --- | --- |
| 17.08-20.08 | Alvear Art Studio 2 pax incl Breakfast | 3n |
| 20.08-24.08 | House of Jasmines Std Dbl room incl Breakfast | 4n |
Day 1: 17. 08 Buenos Aires
Transfer to the hotel in Buenos Aires. Accommodation and rest in the hotel. Alvear Art Hotel
Day 2: 18.08 Buenos Aires
After breakfast, our guide will pick you up at your hotel for a half day city tour in Buenos Aires. This panoramic tour will take you through the highlights of South America's most European and cosmopolitan city. We'll drive along 9 de Julio Avenue where the renowned Colón Theater and the Obelisk, symbols of our city, are located. We'll visit Plaza de Mayo, surrounded by important historic buildings like the Casa Rosada, the Cathedral and the City Hall. We'll also visit Plaza San Martin, Alvear and Plaza del Congreso. The tour will drive us along the old fashion Avenida de Mayo and the dynamic Avenida Corrientes. Explore neighborhoods filled with colors and history, like La Boca and San Telmo, and the sumptuous neighborhoods of Palermo, Recoleta and the modern Puerto Madero, a busy gastronomic and entertainment area. In the evening enjoy an amazing Tango Show and Dinner. Tango is very much alive. A good way of penetrating its spirit is visiting one of the restaurants that offers tango shows of an excellent level, to enjoy tango´s sensual magnetism taken to the stage by some of the best dancers, singers and musicians in Buenos Aires! After a delicious dinner, you will follow a spectacular presentation of acclaimed popular and sensuous Tango, performed by the world's best. It is the music of Buenos Aires par excellence. Tango is felt in the air of the city, as humidity!
buenos government house.png
Day 3: 19.08 Buenos Aires
Today you have the day free to enjoy the city as you want! Or take some optional tours. Free day for optional tours (all tours listed on this day need to be payed additionally just tell us which one interests you most)
buenosaires7.11png.png
Tigre Tour and Northern Zone*
We will leave Buenos Aires city heading for the town of Tigre, one hour away, where we will board a tourist boat to navigate along the Delta and its islands. The life of the isleños (people who live on the islands of the Delta) is very special. We will learn about their customs, culture and ways of life. On the way back to Buenos Aires city we will drive by the elegant residences of the well-off, located in the northern suburbs, and the San Isidro neighborhood. Additionally, you will also get a glimpse of the Presidential Residence (Quinta de Olivos) as we drive by it.
countries/argentina/tigre-argentina1.png
Day Ranch and Fiesta Gaucha*
Escape the city and journey back to simpler times with this Gaucho Party tour. Let us pick you up and transport you to an 'estancia' or ranch for a fun filled day. Once we arrive at the estancia, we'll have some time to get to better acquainted with one another while indulging on handmade empanadas. After which, we will have some free time to take in the sights, explore the area, go horseback riding etc. The grounds are literally at your disposal. You won't have to worry about going hungry on this tour. After our free time we will be invited to partake in an 'asado', which is a traditional Argentinean barbeque that includes – both alcoholic and non-alcoholic drinks, and dessert with coffee or tea. The fun doesn't stop there; after lunch we will be treated to both a folkloric and a tango show. The cultural experience doesn't end there. The real show will start when the gauchos come out to show you their skills. They will demonstrate ring-races, horse mildness among many others. This part of the day is also interactive, so you better have your boots on and ready to go. Once we have said goodbye we will hop back on our comfortable and air conditioned bus for a relaxing trip back to Buenos Aires. Itinerary 11:00am - Reception with handmade empanadas and wine at the ranch's pulperia (traditional argentine bar). 11:30am - Free activities. Walk around the beautiful garden, visit the local museum and church, go horseback riding or try the typical carriages. 1:00pm - Lunch Time. Traditional argentine barbecue with salads.Your choice of drinks includes soft drinks, beer, and red or white wine. For dessert taste traditional pastries accompanied with coffee or tea. 3:00pm - The gauchos will show you their skills such as ring-races, horse mildness, and troops retail-trade including the participation of the public. 4:30pm - Return to Buenos Aires.
rancho gaucho11.png
Tour to Colonia del Sacramento, Uruguay*
Colonia de Sacramento, a former Portuguese city of the XVII century has been declared a World Heritage Site by UNESCO for its architecture. The tour starts with a short boat ride across the Rio de la Plata. Once in Colonia you can enjoy a delicious lunch and after that, a tour of the city on the tourist bus where you can appreciate its impeccable and luxurious parks and gardens, quiet streets, and all the coast up to Real de San Carlos with its bullring .Then you have free time to enjoy this beautiful city. This tour includes: transfers hotel – Buquebus Port – hotel in Buenos Aires / walking tour in Colonia / Ferry tickets Buenos Aires – Colonia - Buenos Aires.
colonia del sacramento.png
Full day Tour to Montevideo (Uruguay)*
This tour invites us to Montevideo, capital city of Uruguay. Located a few hours from Buenos Aires, Montevideo is a cosmopolitan city with more than two centuries of history. The trip begins sailing across the Rio de la Plata on board the best Buquebus boats. Once we reach Montevideo our guide will be waiting for us to start the tour of the main attractions of the city, including the historic center with its cultural centers and museums. Thus, we discover the history of this city and its country, as well as its beaches, and its cultural and artistic movement. Halfway, we stop for a delicious lunch at one of our favorite restaurants: El Fogón, where we will taste the typical cuisine of Uruguay (very similar to Argentina). In the afternoon, we continue with the guided tour, where we make the last stops for shopping and buying souvenirs.
montevideo urug.png
Buenos Aires by Bicycle: (half day or full day)
The pulse of the city lies in its neighborhoods. The Parisian charm of Recoleta, the grit of La Boca, the colonial history of San Telmo, and the upscale modernity of Puerto Madero… Each barrio is wildly different from the next and yet all somehow completely represent the essence of Buenos Aires. Hop on one of these Buenos Aires bike tours to explore the city from La Boca to Palermo and see them all with an informative, fun guide! The southern circuit on the half-day tour will likely include La Boca, San Telmo, and highlights like Plaza de Mayo. The half-day northern circuit covers Recoleta and Palermo. Also, Buenos Aires is fairly flat and biking here is easy. You don't need to be an Iron Man athlete to conquer a full-day Buenos Aires bike tour!
countries/argentina/arg-buenos-aires-jpg.jpg
Day 4: 20.08. Buenos Aires
After breakfast at the hotel, you will be transferred to airport to take your flight to Salta Transfer to your hotel in Salta.
salta argentina.png
Day 5: 21.08 Full Day Cachi & Los Cordones National Park
Flanking the winding RP 33 from Salta to Cachi across the Cuesta del Obispo, this park takes its name from the cardón (candelabra cactus), the park's dominant plant species. Most picturesque is the Valle Encantado, accessed via a drivable 4km track at Km61. A few further miradores (viewpoints) are signposted along the road, along with a couple of short interpretative trails from along the straight stretch in Recta de Tin-Tin. This is gorgeous high-desert territory, with rounded peaks crowning velvety mountains, where cactus groves stand tall at elevations that eclipse 3000m. In the treeless Andean foothills and puna, the cardón has long been an important source of timber for rafters, doors, windows and more. You'll see it often in the region's traditional buildings. We also visit the traditional village of Cachi
countries/argentina/arg-salta-right.jpg
Day 6: 22.08 Cafayate full day
An exclusive one day tour of some of the best vineyards in Argentina. Salta is home to the highest altitude wine region in the world, and this area is still a relatively undiscovered gem. In the premier wine town of Cafayate we will sample Torrontes, Malbec, Cabernet Sauvignon and Tannat. On the way we stop at Quebrada del Rio de las Conchas. This is the ochre-coloured canyon on the road between Salta and Cafayate. It offers stunning scenery, and your driver/guide will take the time to stop for the best photo opportunities. Nature lovers can take a short hike through this wonderful landscape. We also see La Garganta del Diablo The Devil's Throat is one of the naturally-formed geological features in the Quebrada de las Conchas (also known as the Quebrada de Cafayate).
argentinian tango.png
Day 7: 23.08 Purmamarca and 7 colored mountain Full day
Journey to the scenic Purmamarca and the city of Humahuaca on this full-day guided tour! See historical landmarks and iconic sights such as Quebrada de Humahuaca, a UNESCO World Heritage Site, and more. The Humahuaca Canyon is a region rich in history and traditions. This area has been used as road and settlement over ten thousand years, and today still retains architectural and archaeological sites that are testimony to its long history and a population that keeps ancient customs. It forms a natural corridor toward North-South, which stretches across the Rio Grande basin and that communicates the Jujuy Valley with the Puna region. In 2003, during a meeting held in Paris, has been declared by UNESCO as a "World Heritage Site", in the category "Cultural Landscape". Alongside an expert guide, travel through the scenic Argentinian countryside to Purmamarca Village, an indigenous town home to the majestic Seven Colored Hill. Travel back in time in Pucará's Archeological Museum; marvel at the ancient religious paintings in Uquía Church; and gaze at the golden statues inside the Cathedral of Maimara. Return to your hotel in Salta
purmamarka.png
Day 8: 24.08
Transfer out and flight to Buenos Aires and connecting flight to Rio (with airport change)
countries/argentina/buenos-aires.jpg
Dreams Voyage to Argentina