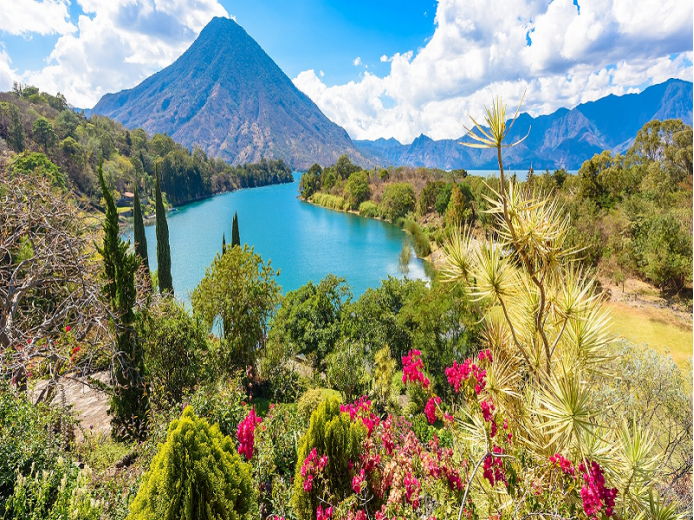 14 days/13 nights

The program is valid from 2 people on any day of departure except Christmas, Easter and New Year Season

P

The price of the program for 1pax in $ USD:



Day 1: Guatemala City / Antigua
Arrival at La Aurora International Airport. You will be met at the airport in order to transfer to Antigua. Overnight at Hotel Villa Colonial.
Day 2: Antigua
Antigua City Tour: Antigua lies in the wide mountain valley of Panchoy, sandwiched between the cones of the volcanoes of Agua, Acatenango and Fuego. The city was founded in 1543 as the third capital of Guatemala, and was called Santiago de Guatemala. And only after the strong earthquake occurred in 1773, the capital had to be moved to a new place in Guatemala City. The city reached its peak by the middle of the 18th century, when an unprecedented construction boom tripled and its population grew to fifty thousand people. By 1773, this city had about 25 churches, 5 women's, 8 men's monasteries and a cathedral built in 1680 and was compared only with the cathedral in Mexico City and Lima, Peru for its beauty and majesty of construction. In 1773 there were 3 very strong earthquakes: the very first that destroyed almost the entire city, all the churches and monasteries happened on July 29, 1773 on St. Martha's Day, so it was called the Santa Marta earthquake. But the most important museum in Antigua is the city itself, its streets, where you can study its history just by walking it. Overnight at Hotel Villa Colonial. (Meals: B)
Day 3: Antigua / Pacaya Volcano / Atitlan Lake
Only 67 km from Antigua Guatemala is the most active and beautiful volcanic complex in Central America, Pacaya Volcano. Its main crater reaches a height of 2,552 meters above sea level. From 1961 to March 2002, a total of 14 major eruptions were recorded, and many others were less intense. In fact, Pacaya volcano is a "volcanic complex", which, according to Carlos Saper, is "the most interesting volcanic complex in Central America in terms of the number of eruptive cones, craters and changes that can be observed constantly." According to volcanologists, the crater in the west began to form more than 2,000 years ago, and Cerro Chino on the one hand and Pacaya volcano on the other began to form from its two ends. We will begin our ascent from a height of 1,900 meters above sea level and rise to 2,300 m. After the descent we continue to Lake Atitlán. Overnight at Hotel Villa Santa Catarina. (Meals: B)
Day 4: Atitlán Lake
Today we will see the most interesting cities where Maya Tzutujil still live on Lake Atitlan. And we will start with San Juan. Boat trip to San Juan takes about 30 minutes. San Juan is the cleanest and tidiest town on the lake. There are many art galleries, whose artists paint in the style of Naive or primitivism. After, we will transfer by boat to the other side of the lake in the city of Santiago Atitlan. Santiago Atitlan, founded in 1547 at the foot of the Atitlan volcano, is the largest city with a population of 32 thousand people, 95% of which are Maya Tzutujil. The local population lives of fishing, farming, and making kayukos (local canoes). Artisans specialize in painting, woodwork and weaving. Santiago is the city of worship of Maximon - a pagan deity or god of the Mayan people, who are offering donations in the form of alcohol and cigars. We will also visit the local Catholic church, where two religions merged - Catholicism and Mayan beliefs and take a walk past the local city hall, where the elders of the city are sitting, dressed in white striped shorts and birds embroidered at the bottom. Our final stop, before heading back to Panajachel, will be San Antonio Palopo. Overnight at Hotel Villa Santa Catarina. (Meals: B)
Day 5: Chichicastenango / Guatemala City (Thursday or Sunday)
Today we will go to the largest highland Mayan Market, Chichicastenango (only Thursday or Sunday). Surrounded by valleys and mountains that cover the horizons, Chichicastenango may seem isolated in time and space from the rest of Guatemala. When its narrow, cobbled streets and red tiled roofs are covered with fog, and this happens often, it may seem like you're in some kind of fairy tale. Crowds of sellers and tourist groups flock on Thursday and Sunday to the country's largest alpine market. The Catholic patron of the city is St. Thomas, in his honor the city of Santo Thomas was built in 1540 in the city. When the Catholic missionaries arrived, they destroyed the Mayan temple and built a white church in its place. The only thing left of the temple is 18 steep steps leading to the church by the number of months in the Mayan solar calendar Haab. Therefore, this church is probably the most unique Catholic church in Guatemala due to religious symbiosis within the church. On the steps of the church they sell flowers, candles and fragrances. Like in the front of the pyramids, an altar is installed in front of the stairs - a round flat stone, from which smoke rises from the smoldering pomp in clubs. And what a market without shopping, so bring enough money with you to buy souvenirs. The Chichicastenango market is famous mainly for its textiles and masks. Back to Guatemala City. Overnight at Hotel Barceló Guatemala City. (Meals: B)
Day 6: Guatemala City / Biotopo del Quetzal / Lanquin
Transfer to the greenest and rainiest department in Guatemala, Alta Verapaz. (distance 120 km; 3 hours on the way) Not far from Coban is the Nature Reserve of Quetzal, which was created to protect the Quetzal bird, that was considered a sacred bird for the Mayan civilization. Quetzal is now one of the national symbols of Guatemala. Quetzal is a symbol of freedom for the Mayan people. We can walk along the trails through the humid cloudy forest and enjoy orchids, ferns and bromeliads, as well as watch owls, hummingbirds and toucans. And if you are very lucky, then you will see a quetzal, which you will never forget in your life. After the hike in the park transfer to Lanquin. (distance 220 km; 4 hours on the way). Today we will have another experience: Glamping, a charming and unusual experience, rest in comfortable equipped tents that will surely exceed your expectations and create unforgettable memories for you. Overnight at La Posada de Coban. (Meals: B)
Day 7: Lanquin / Semuc Champey / Lanquin
Today we will visit one of the most beautiful places in Guatemala, Semuc Champey - a series of small, beautiful, natural ponds and pools. In Mayan Keqchi, Semuc Champey means Sacred Water.The Cajabon River flows at the very beginning of the Semuc Champey and leaves about 400 meters after passing a natural limestone bridge with beautiful, crystal-clear ponds. The water in these natural pools has an emerald green color, and sometimes resembles a dark blue sapphire. Today we will have another experience: Glamping, a charming and unusual experience, rest in comfortable equipped tents that will surely exceed your expectations and create unforgettable memories for you. Overnight at La Posada de Coban. (Meals: B)
Day 8: Lanquin / Candelaria Cave / Flores, Peten
Today we will go to the northernmost department of Guatemala, Peten. (5 hours on the way). On the way we will see a unique cave. Candelaria Cave (30km.) is one of the most important caves in this region. For the ancient Mayans this cave served as an entrance to the underworld of Xibalba. Currently, Mayan rituals are still taking place here. The main gallery is about 22 km. After that transfer to the north of Guatemala. Overnight at Hotel Villa Maya. (Meals: B)
Day 9: Tikal
Tikal is 64 km from Flores, the beautiful capital of Peten, located on an island on Lake Peten Itza. Tikal means "a place where the voices of spirits are heard", in comparison with other cities of the classical period it seems huge - this is the largest settlement of pre- Columbian America. Scientists came to this conclusion after a series of excavations conducted in the late 50s. It has been inhabited since 700 BC. until 900 AD, only then to be conquered again by the tropical jungle, from the beginning of the eleventh century until the beginning of the twentieth century, when Tikal was discovered and restoration work began. The urban complex of Tikal (not counting the outskirts) occupied an area of about 16 square kilometers. It housed 3 thousand buildings, and the pyramids were distinguished by a specific style, not found anywhere else in Mesoamerica. The six pyramidal temples make a particularly strong impression, which look like real skyscrapers against the background of other structures of this type. No wonder archaeologists called Tikal-New York the Mayan civilization. Today Tikal National Park covers 575 square kilometers and in 1979 was listed as a UNESCO World Heritage Site as a cultural and natural heritage of mankind. Overnight at Hotel Villa Maya. (Meals: B)
Day 10: Flores / Rio Dulce / Livingston
Transfer to the Izabal department to the most picturesque river of Guatemala – Rio Dulce. In accordance with its peculiar geological history, which began at least 400 million years, Izabal is a complex mixture of karst caves and hills, rivers, lakes, marshes and large plains. You can find Mayan pyramids hidden in the rainforest and with so much vegetation and water, this region of Guatemala is a paradise for lovers of nature and birds. The natural area of Izabal resembles the richness of the Amazon forests. Izabal's rainforest is uniquely impressive. With the highest biological diversity in the country, with an abundance of vegetation on the banks of the rivers, it is rightly called the jade coast. Transfer to a boat and a journey along the Rio Dulce: the sheer walls of the river canyon, thermal springs, the beauty of the tropical jungle will leave unforgettable impressions and of course the city of Livingston, where the Garifuna people live, the descendants of slaves exported from Africa. Excursion to Livingston (it is impossible to get to the city by land, only by water) - a settlement of the Garifuna people with a unique culture that combines African, Caribbean and European elements. Spreading palm trees, reggae music and stunning seafood are the symbols of Livingston, allowing you to experience the true spirit of Jamaica in the center of Guatemala. During our trip you can try a typical Garifuna dish - tapado soup (seafood soup cooked in coconut milk). Overnight at Hotel Villa Caribe. (Meals: B)
Day 11: Playa Blanca
Day of rest at the white sand beach near Livingston. Overnight at Hotel Villa Caribe. (Meals: B)
Day 12: Rio Dulce / Copan, Honduras
Transfer to Honduras. Visit the famous Mayan ruins of Copan. The main value of Copan is the unreal beauty and accuracy of art on stelae. This site of the Mayan civilization was called Athens of Mesoamerica. There you will even find a stelae made in three dimensions. A true work of art is considered to be the Mayan Staircase with hieroglyphs during the classical period. Each of its 63 steps is decorated with complex letters, and balustrades with the image of snakes and birds are erected on the sides. Overnight at Hotel Clarion Copan Ruinas (Meals: B)
Day 13: Copan / Guatemala City
Transfer to Guatemala City. Overnight at Hotel Barceló Guatemala City. (Meals: B)
Day 14: Guatemala City
Transfer to La Aurora International Airport in Guatemala City. (Meals: B)
The price of the program includes:
-Transportation -Entrance fees -Guided Tours as per the itinerary (English Speaking Guide) -Lodging and local taxes -Meals accord to itinerary: Breakfast (B), Lunch (L), Dinner (D)
The price of the program does not include:
-Optional Activities. -Arrival and Departure Taxes -Extras in hotels (laundry, phone calls, room service, etc.)
The best of Guatemala 2023