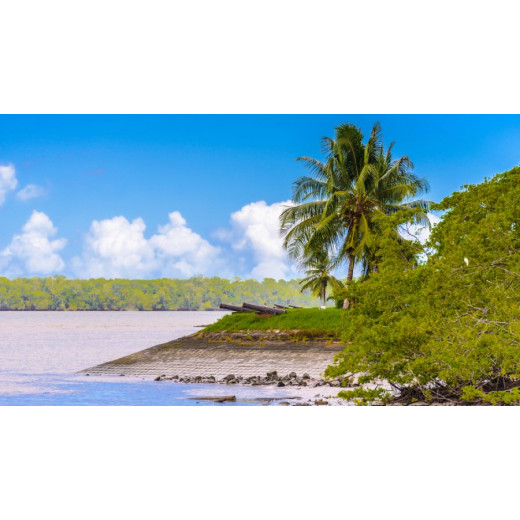 Suriname is a synonym for nature, culture, history and culinary experience. It is a small country on the north coast of South America, a destination that is still largely untouched and that is waiting to be discovered by you! Go on a jungle expedition, experience African maroon culture in the Suriname Amazon and explore the historical city and surroundings of Paramaribo.
The price of the program per pax is: $ 3840
Day 1: Arrival in Suriname
Arrive in Suriname. Here you will be met and greeted by your guide and will be transferred to your hotel in Paramaribo.
Day 2: Paramaribo city
Paramaribo city highlights and sunset dolphin tour! We will start with a city tour of Paramaribo and show you the highlights of the city and visit the highest wooden building in the city: the wooden St. Peter and Paul Cathedral. We will visit several other the UNESCO world heritage sites, like the independence square, Fort Zeelandia and The Palm Garden. We will also go to the local markets. After this tour, we will bring you to Leonsberg where you will set off on boat tour to spot Pink Belly dolphins in the Suriname river with a local tent boat. After the dolphin tour, we will return to hotel. (B)
Day 3 – 6: Jungle experience
Jungle experience and animal spotting Today, we will fly to Kabalebo Nature Resort. After a flight of approximately 75 minutes there will be nothing more than jungle and animals. You will stay in a nice and clean jungle hotel in the Amazon rainforest and experience the surrounding area at its best. The days will be filled with lots of activities like, jungle walks and hikes, boating on the river, spotting animals, watching birds, mountain climbing, swimming, relaxing in rapids (natural massage), kayaking and enjoying a great view over the Amazon rainforest. The highlight will be a night tour in the jungle with an experienced guide and spotting an ocelot that comes to the lodge for his diner meal! On the fourth day, you will fly back to Paramaribo and check in to your hotel. (B/L/D)
Day 7 – 10: Maroon culture in Upper-Suriname
The next day, you will leave the city again and travel to Upper-Suriname to stay in a river lodge and experience Maroon culture. Maroons are descendants of runaway slaves and their villages and way of living is much like their ancestors'. It will give you a feeling of being in Africa, while being in the Amazon. The nights will be spent in basic and clean river lodges. We will go on a village walk to experience how the local people live and the women of the village will do a cultural dance performance, where they will teach you some of their dances and let you take part in the fun. You will also go on a jungle walk and enjoy the relaxing powers of the river when we visit a rapid, where you can swim. After three days, we will travel back to Paramaribo and bring you back to your hotel in the city. (B/L/D)
Day 11: Mangrove tour
Mangrove tour and swamps experience! Today is about history and nature. We will bring you to the Warappa creek, where you will enjoy the rich nature of the mangroves. You will see old sugar mills along the old plantations where the jungle has taken its place again. We will also visit the old plantation Bakkie and a small private museum with items of the slaves that were found on this plantation. After the tour, we will return to the hotel. (B/L)
Day 12: Departure from Suriname
At 2 pm we will leave the hotel and bring you to the airport for your flight home. (B)
The price of the program includes:
 All local transfers  Continental flight to/from Kabalebo Nature Resort  Accommodation at Kabalebo Nature Resort  Accommodation in Paramaribo  All activities mentioned in the program  All meals mentioned in the program  Entrance fees  Local taxes
The price of the program does not include:
o Flight to and from Suriname o Visa / tourist card o Insurance o Personal expenditures
Suriname 2023