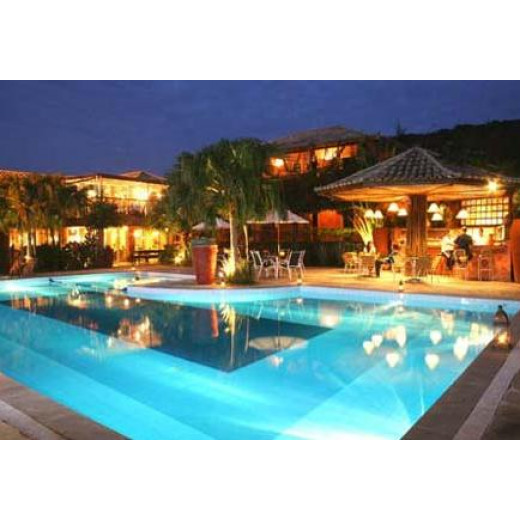 Pousada Pedra da Laguna is located 200 mts. (approximately), the charming beach of Ferradura, and next to one of the most beautiful and attractive tourist resort of Buzios, Ponta da Lagoinha.

Here you will find tranquility, exuberant nature and at the same time, the comfort next to the charm and refinement of one of the most beautiful accommodations in Buzios.

There are 25 apts, of the following categories: standard, deluxe, superior and deluxe master suite. All rooms have cable television, telephone, refrigerator, closet, safe, hairdryer, air conditioning and ceiling fan.
Hotel Information
Аrea information
Buzios has its origin in a small town fishing village, which in the past was populated by French pirates and the slave trade. With over 20 beaches of incomparable beauty and variety, this peninsula that looks like an island, is now a sophisticated resort with a bustling nightlife. In the low season Búzios becomes a paradise for lovers of restaurants, art, ecology and good taste. The history of Armação as upscale resort began with the arrival of Brigitte Bardot in the 60 and never stopped.
Food and Restaurants
Overlooking the lovely garden of the inn and its beautiful pool, Laguna Bistro has a varied menu that is renewed each season, with specialties like fish and seafood. Chef Wellington heads the kitchen of the restaurant, always with new suggestions.
Rating information
HS: 173-395 LS: 115-316
Hotel Facilities
Activities
Spa & Wellness Centre Outdoor Swimming Pool
General
Restaurant Bar Safety Deposit Box Cable/Satellite TV Air-conditioning
Services
Meeting/Banquet Facilities Bicycle Rental
Hotel Policies
Cancellation
Cancellation Policy In case of cancellation or no show, the following criteria will be observed:             High Season / Extended Holidays / Special Packages:            ·    Up to 45 days before the check in date –               refund of 60% of the amount value or letter of credit of the amount paid to be used in another period (Low Season) depending on availability;            ·    Between 45 to 30 days  –               refund of 50% of the paid amount or letter of credit of the amount paid to be used in Low Season depending on availability;            ·    Less than 30 days before the check in date  – there will be NO refund of the  amount paid.            Low Season/best season:            ·    Up to 30 days before the check in date  –              refund of 60% of the amount value or letter of credit of the amount paid to be used in Low Season depending on availability;            ·    Between 15 to 30 days before the check in date –               refund of 50% of the amount paid or letter of credit of the amount paid to be used in Low Season depending on availability;           ·     Less than 15 days before the check in date no show up –  there will be NO refund of the amount paid.
Check in
14:00
Check out
12:00
Children and extra bed
Children up to 2 years-old: Free, additional bed: 30%  Deposit of 50% at the confirmation of the reservation and the rest at the Lodge
Pedra Laguna Lodge & Spa