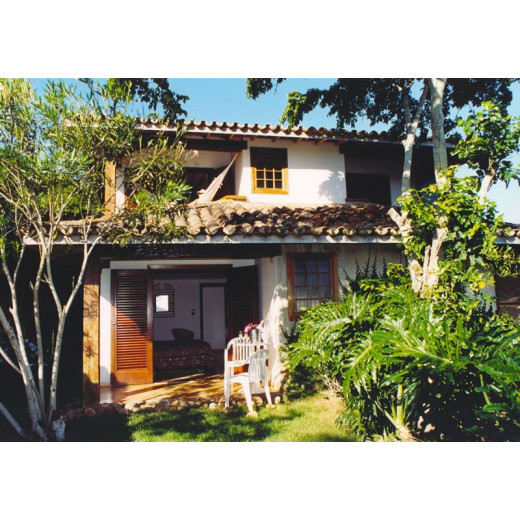 Buzios is one of the most beautiful peninsulas in the world with abundant vegetation, and it is situated two and a half hours drive from Rio de Janeiro: A vacation paradise in South America, Vila Boa Vida is the epitome of what you expect from a holiday. Between leafy bougainvillea and palm trees that cover the hill that frames the Ferradura Cove is a stunning view. Welcome to the Boa Vida! Welcome to paradise! The Hotel Vila Boa Vida offers a unique and unforgettable stay with high comfort and charm.

To make the stay unforgettable, the Hotel Vila Boa Vida provides comfort and well being in homes with colonial style, with flowering gardens and overlooking the beach of Ferradura. All this combined with attractions such as diving, jet skiing, windsurfing, boat tours and bicycle rental. Located near the sea and in elevated position, with one of the most spectacular views over the bay of the Horseshoe. Welcome to this Boa Vida! Welcome to paradise!

Are in all, there are 35 units, all built to international quality standards in colonial style, set amid palm trees, lemon trees, bromeliads, hibiscus and a balcony overlooking the sea. Luxuriously furnished apartments are equipped with direct dial telephone, cable television, minibar, safe and air conditioning.
Hotel Information
Аrea information
Buzios has its origin in a small town fishing village, which in the past was populated by French pirates and the slave trade. With over 20 beaches of incomparable beauty and variety, this peninsula that looks like an island, is now a sophisticated resort with a bustling nightlife. In the low season Búzios becomes a paradise for lovers of restaurants, art, ecology and good taste. The history of Armação as upscale resort began with the arrival of Brigitte Bardot in the 60 and never stopped.
Food and Restaurants
With its lush views of Ferradura Beach, the restaurant, where you can enjoy our traditional dish, Pan Sea, with a variety of fish and seafood, is a very good place to enjoy your meal.
Rating information
HS: 161-344 LS: 104-269
Hotel Facilities
Activities
Outdoor Swimming Pool Cycling
General
Restaurant Bar Safety Deposit Box Cable/Satellite TV Air-conditioning
Services
Bicycle Rental
Pousada Vila Boa Vida