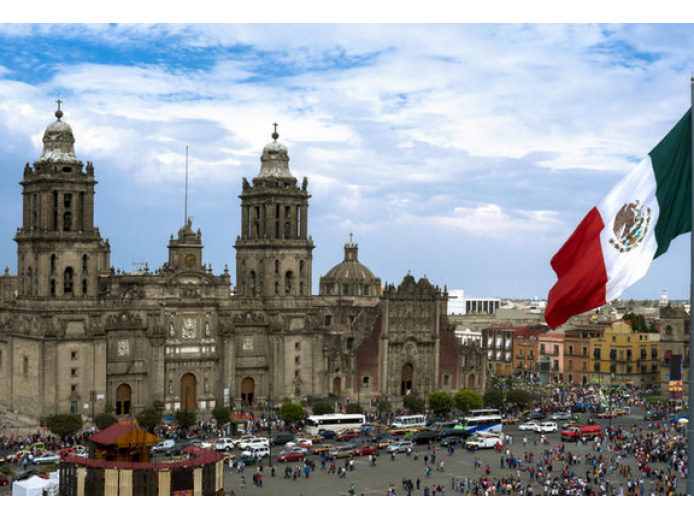 14 days/13nights
Mexico's Aromas between the Oceans shows culinary splendor as varied as landscapes, cultures and climates in central Mexico between the Gulf of Mexico as an extension of the Atlantic and the Pacific Ocean on the other side. Let yourself be taken along this beautiful route, through charming towns, dramatic landscapes, to the breezes of the sea - and have the opportunity to taste from all kinds of food & beverage.
The program is valid from 2 pax on any date during 2023, except public holidays and special dates:
The price of the program in USD per pax
Day 1: Mexico City
Welcome in airport MEX and transfer to your centrally located hotel (earliest possible check-in hour: 15:00h local Mexico City time). Resting time of day at leisure before your first overnight in Mexico City.
Day 2-3: Cultures, Historical Center, Market & Templo Mayor (B)
Breakfast in hotel. Today, let us show Mexico City to you, in its origins, in its transformation to contemporary culture, learning about ancient roots and culinary aspects. Visit the Square of 3 Cultures in Tlatelolco, where in prehispanic times were held the market places of all goods, which also were provided to the theocratic quarters of priests, and where nowadays the Aztec ruins lay next to colonial Santiago church, surrounded by the rather modern living complex of Nonoalco- Tlatelolco. Get into Mexico City's historical center (UNESCO World Heritage – UWH), where you explore the area walking, seeing Zocalo main square with National Palace and Metropolitan Cathedral around, get into a local market and see all the fresh fruit and vegetables and have some tasting of typical Mexican food. Visit also the ruins of Aztec Main Temple which remain from prehispanic Aztec capital Tenochtitlán (Templo Mayor is closed on Mondays / in those Mondays, the view would be from outside only). See also the Fine Arts Palace with its fascinating mural paintings inside, as well as Alameda Central Park and get gimpls into traditional bakeries and Mexican artisan sweet shops. After a day full of city center exploration return to your hotel. There we recommend not to miss a dinner (not included in package price) in the hotel's rooftop restaurant, which is well known for its exquisite cuisine!
Day 3:Cooking In Xochimilco & Coyoacán Home Of Frida Kahlo (B, L)
Breakfast in hotel. Morning drive into southern parts of Mexico City to reach Xochimilco town, which is part of the capital. Meet the local family, with which you will go to market hall to buy ingredients, for then to get to their private home and kitchen for your cooking class on typical Mexican recipes and finally have a wonderful ride on your private Trajinera boat along the ancient canals of Floating Gardens of Xochimilco (UWH) with its agricultural Chinampa islands. Enjoy a tasty lunch on board, before then in afternoon to get into Coyoacán colonial quarter, where you will visit also the Blue House, which is the Museum Frida Kahlo, which houses a charming exhibition about the famous artist's life, her art and connected oeuvre to her and her husband Diego Rivera. Visit the main building and exhibition on your own, before your guide will receive you again on your exit from the museum. Evening return to hotel for resting free time.
Day 4:Anthropology Museum & Tula – Cañada De Cisneros (B)
Breakfast in hotel. The morning is dedicated to Mexico's National Museum of Anthropology, a unique example of its kind in the world. The visit there is for the seeing of some major exhibition hall about main prehispanic cultures in Mexico, also seen from the prehispanic point of view, calling all the included cultural area Mesoamerica. In route then out of Mexico City, make first a further excursion to get into the prehispanic region of the Toltecs, there to visit their ancient capital of Tula, where in the archaeological site you can see, among others, the interesting Atlantes statues, which formerly carried the temple roof, which has disappeared over the centuries. In the later afternoon/early evening, reach your overnight place in the countryside outskirts of Mexico City, where the landlady welcomes you in her charming rural mansion to fully relax in nature and silence.
Day 5:Tepotzotlán, Rural Cooking & Colonial Origins Of Water (B, L)
Breakfast in hotel. Morning short drive into neighbor Magical Town of Tepotzotlán, there to see the precious Mexican baroque church (UWH – as part of Camino Real) and the Museum of Viceroyal Art (museum closed on Mondays). Go to the local market and already get some of the ingredients, with which on your return to hotel you will realize the cooking class on base of prehispanic recipes! Enjoy lunch surrounded by the private and lush ambiance of Quinta Golondrinas, before you will visit still the colonial aqueduct Arcos de Sitio for a panoramic walk around and see this wonderful engineering work from the colonial era, when the missionaries worked to get water into central valleys of Mexico.
Day 6: Cañada De Cisneros – Acolman & Teotihuacán - Tlaxcala (B)
Breakfast in hotel. Morning drive out of Cañada de Cisneros. In ongoing route for Teotihuacán, visit the colonial ex-convent of Acolman. Here you will see and learn about, how the Spanish crown conquered ancient Mexico not only economically, but overall, in the religious way. Afternoon visit of Teotihuacán archaeological site (UWH). The name was given by the ancient Aztec culture, which, when they arrived to settle in central valleys of Mexico, already found this prehispanic city abandoned, and for the mighty structures thought, that such place could have been built by gods only. During your visit walk, see so emblematic structures like so called Citadel, Quetzalcóatl-Temple, Road of the Dear, and yes, of course, also the great Pyramids of the Sun and the Moon, among others. Evening arrival in Tlaxcala city, capital of the state with the same name.
Day 7: Cacaxtla, Rural Delights & Tlaxcala (B, L)
Breakfast in hotel. Morning drive out to visit the archaeological site of Cacaxtla with its impressing ruins of early Olmec culture in Mesoamerica, which is a burst of bright colors in ceremonial paintings. In neighbor town of San Miguel del Milagro, have interesting visits with explanations about prehispanic amaranth grain and its actual products, as well as about the maguey agave and its benefits. Enjoy local lunch on base of traditional Basket Tacos, among others (Alternatively to Amaranth, Maguey & Basket Tacos can be visited a craft distillery of whiskey and rum, which are gained from local products of corn, raw sugar, spices and seasonal fruits, accompanied with a rich lunch meal). In the afternoon back in Tlaxcala city, visit its historical with the beautiful mural paintings in Government Palace, the bull arena right next to the state capitals cathedral, as well as the sanctuary church in Ocotlán, among others.
Day 8: Tlaxcala – Bulls, Haciendas & Cheeses - Tenexac (B, L)
Breakfast in hotel. After the first meal, leave for the northern part of Tlaxcala state. Tlaxcala is well known for its fighting bull breeding farms. Visit one of these farms, have an interesting and explicative drive around the big area, cross among the massive animals, for then also to get to a nearby hacienda to learn about still active rural life in these agricultural centers in family ownership, which exist since the Spanish colonial reign. Have lunch on base of the rich recipes of the family, before you get into nearby Magical Town of Tlaxco, which has a charming small center, as well as a long history in silver works and artisan cheeses! Evening arrival in countryside hacienda Tenexac, where the bull tradition is also alive. Enjoy to have overnight in a typical Calpanería room!
Day 9: Tenexac – Puebla – Cantona – Coatepec (B, L)
Breakfast in hotel. Morning drive to Puebla so called "City of Angels", to visit its historical center (UWH), famous for its Mexican baroque architecture in the cathedral and other buildings around the lush green Zocalo main square. Visit also the amazing Rosary Chapel in Santo Domingo-church, as well as the traditional El Parian Market and the colorful arts quarter Los Sapos. During lunch, you may like to taste from a dish with traditional Mole Sauce? This is created on base of an elaborate recipe with cocoa, chili and other spices. After the first meal, leave for neighbor state Veracruz. In route, still have a short detour to visit the archaeological site of Cantona. which once was the most urbanized prehispanic city in Mesoamerica. Climb up several levels of constructions, to reach innumerous ball game courts and temples, all nestled in between pines & palms over a fantastic landscape. After this visit, in the later afternoon, drive to Magical Town of Coatepec in the coffee mountains of Veracruz state. After hotel check-in, still have a relaxing short panoramic walk through the picturesque urban ambiance.
Day 10: Coffee Everywhere! (B, L)
Breakfast in hotel. In Coatepec, visit one of the traditional coffees fincas, there to see and learn about the coffee plant, the coffee cherry and how this is processed to gain this worldwide famous, aromatic beverage. Drive then down to the coast and city of Veracruz, which keeps its original ambiance of tropical port city in front of Gulf of Mexico. Have a relaxed visit walk there, see the main square and surroundings arch and cathedral, learn about the origin of the city and stroll along the waterfront "malecón". Enjoy lunch on base of typical, and if you like also seafood, recipes, and do not miss to let serve yourself with a traditional Café Lechero, with milk poured from high above to create its characteristic foam. In the later afternoon, drive back into the higher lands and reach the Magical Town of Orizaba, the commercial center of trading for the mountain region around. Enjoy a relaxed evening walk in the colorful town, also to see the ancient Steel Palace, which came into town in pieces from Europe, when in late 19th century the railway was built to connect the Gulf Coast with Mexico City.
Day 11: Orizaba – Cactus Mountains - Oaxaca (B, L)
Breakfast in hotel. Enjoy a morning sightseeing walk with daylight in Orizaba. See the cathedral, the municipal market, also with the coffee toasters around, again a glimp on the Steel Palace, as well as on the river walk, which beautifully crosses town. In ongoing route for Oaxaca, have a detour into the Biosphere Reserve of Tehuacán-Cuicatlán (UWH), where the dramatic landscape is covered over and over with millions of cactus species in a suddenly semidesert scenery. Enjoy lunch in a local restaurant on base of possible ingredients from local plants and visit the beautiful botanical garden Helia Bravos Holis. Evening arrival in city of Oaxaca for hotel check-in, so you can have free time afterwards to still explore the colonial street blocks around on your own.
Day 12: Monte Albán & Historical Oaxaca (B)
Breakfast in hotel. During the morning visit to Monte Alban (UWH), a great archeological site originally founded by the prehispanic Zapotec culture. Built on a flattened mountain top, it was of ceremonial and strategic importance for the central valleys of Oaxaca. We will walk along the site's Main Square, Observatory, Tomb #7 as well as the Stones of the Dancers. Midday returns to Oaxaca and visit its beautiful historical center (UWH), including the Cathedral, the magnificent Santo Domingo church and adjacent Regional Museum of Anthropology. Get also in the traditional commerce quarter, wherein Market 20 de Noviembre, you will not only see fruit & vegetables, but also all the smoking food booths, as well as to learn about insects to be an important part of Oaxaca's cuisine since prehispanic times.
Day 13:Tlacochahuaya, Teotitlán Del Valle, Mitla & Mezcal (B)
Breakfast in hotel. Shortly outside Oaxaca, visit Tlacochahuaya town and church of San Jerónimo, which includes notable merger to prehispanic and colonial influence in the artwork. Reach then Teotitlán del Valle town, which has a long tradition in weaving art, which you will see and learn about during the stop there. Get also to Mitla archaeological site (UWH), where the stone relieff patterns on the main temples are outstanding. Visit also a traditional Mezcal destillery to get an additional view on agricultural traditions of the region. Late afternoon return to Oaxaca city and last evening free at leisure in town. We recommend, for your own paid dinner (dinner price not included in package price), to choose from some of the various charming restaurants in Oaxaca for a reservation.
Day 14:Good Bye Oaxaca! (B)
Breakfast in hotel. Latest check-out from hotel at noon. Have transfer to airport or coach station in Oaxaca, or even directly back to Mexico City (distance Oaxaca-Mexico City approx. 480km / 7h drive).
The price includes:
-Accommodation in mentioned hotels and room categories over indicated numbers of nights - Meals as indicated by abbreviations in daily title brackets and as per program description -Private ground transport in a/c CAR with english speaking driver-guide for all tfr, excursions, visits of program -Fees for entrance and visits as necessary to realize the visits and excursions as mentioned in programs -Private cooking classes where and when mentioned Space in ground service vehicle (if used) to store 1 suitcase ppax in trunk or sim. +1 hand luggage (small light bag) Applicable tax for services included as enlisted/shown here above
The price does not include:
-Flights, air- and airport taxes, Mexico Tourist Tax (Intl' Departure Tax)* -Tips of any kind: to guides, drivers, waiters, hotel staff -Beverages (except coffee/tea & juice/water during breakfasts which are mentioned as included) -Storage in ground service vehicle for more than the allowed luggage indicated as included here above -Personal expenses as e.g., for phone calls, laundry, hotel extras, souvenirs, own paid lunches/dinners and similar -Anything not mentioned explicitly as included in corresponding section named "The price(s) include(s)"
Mexico's Aromas between the oceans 2023