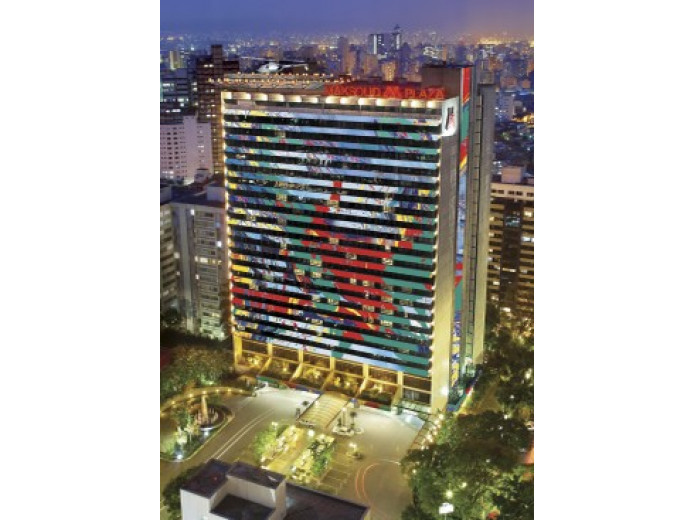 Treat Yourself to a Sao Paulo Luxury Hotel

A landmark of hospitality, elegance and impeccable service, the Maksoud Plaza Sao Paulo Hotel is located in the heart of Sao Paulo, Brazil. Limousine service also available to and from airports on request and there is van service to and from Guarulhos International every hour on the hour from 7 a.m. to 11 a.m. and 3 p.m. to 9 p.m. For top-of-the-line accommodations at a Sao Paulo luxury hotel, make your Sao Paulo hotel reservation at Maksoud Plaza.

The Maksoud Plaza Sao Paulo Hotel features 416 spacious Rooms and Suites, elegantly appointed, newly renovated, all equipped with advanced technology including state-of-the-art Class A fire protection, secure magnetic keys, portable control for air conditioning, lighting scenarios, stereo music and worldwide TV channels. All rooms have spacious sitting areas, three telephone lines, multilingual voice-mail, bathroom robes and slippers, in-room electronic digital safe, refrigerator and the hotel's own novel Room Office® with a unique capability in a hotel room of 3 simultaneous ways to the Internet: Fast Track Internet®, ReadyWeb and dial-up to external provider. The Fast Track Internet® is available on all floors of the Maksoud Plaza.

The hotel majestic Atrium Lobby has a distinguished architectural design that provides an unforgettable welcome: fountains, shopping arcade, restaurants, bars, moving stairways, four panoramic elevators and gardens with tropical plants hovering from internal terraces that reflect sunlight tones offering an impressive view of the 22 floor structure and of the sculptural solar ceiling, while arts of Bruno Giorgi, Toyota and Maria Bonomi add to the sophistication of the atmosphere.

The hotel´s Gastronomic Center with four Restaurants and four Bars: La Cuisine du Soleil featuring delicacies from the four continents; 24-hour Café Brasserie Belavista; 24-hour Pizzeria; Arlanza Grill, for grilled beef, fish and poultry, Open-air cafe-style seating in Amaryllis Bar; Trianon Piano Bar and Batidas e Petiscos Bar. 24-hour Atrium Lobby Bar. All equipped with WI-FI wireless internet - Fast Track Internet® or other two operators.
Sports: Complete Health Club with indoor heated pool, fitness equipment, massage parlor and sauna. Certified trainers. Pool Snack Bar.

MAKSOUD PLAZA HOTEL IN SAO PAULO BRAZIL

Events Pavilion: Fully equipped convention, meeting and banquet facilities, 420-seat Theatre, Rental Offices, VIP Club, Meeting/Dining Rooms, all with high speed Fast Track Internet® , Wireless Internet (WIFI) and Video Conference.

Business Cells Center: A new concept of Business Center comprising decentralized Cells, each including arrays of services and facilities designed to attend all communications, data processing and working needs during the guest's stay.
Hotel Information
Аrea information
Conveniently located just off Avenida Paulista, the hotel is just 40 minutes from Sao Paulo Guarulhos International Airport and 15 minutes for Sao Paulo Congonhas Domestic Airport. There is air shuttle access to and from Sao Paulo and Rio, Brasilia, Belo Horizonte, Curitiba and other areas in Brazil.
Food and Restaurants
Anxious to try a caipirinha followed by a feijoada? Maksoud Plaza offers a host of Sao Paulo Restaurants and Bars options nearby. Nearly all of these establishments specialize in Brazil's most famous foods and drinks. Stop in and have a caipirinha, a traditional brazilian drink that goes great with Brazilian and international food and is usually appreciated prior to a meal. Follow that with a feijoada, a bean potpourri-type dish that is considered the country's national dish. Visit the Gastronomic Center of the Maksoud Plaza at the Atrium Lobby of the hotel and take advantage of the assortment of high-quality, creative Sao Paulo Restaurants and Bars possibilities located close to glamorous Avenida Paulista.All equipped with WI-FI wireless internet - Fast Track Internet® or other two operators. From 01 a.m. to 06 a.m Late-Night Special Menu is available.
Rating information
132-654
Hotel Facilities
Activities
Fitness Centre
General
Restaurant Bar 24-Hour Front Desk Elevator Rooms/Facilities for Disabled Guests Safety Deposit Box Cable/Satellite TV Soundproofed Rooms Luggage Storage
Internet
Wi-fi and dial-up
Services
Airport transfer Room Service Meeting/Banquet Facilities Business Centre Fax/Photocopying VIP Room Facilities
Hotel Policies
Check in
15:00
Check out
12:00
Maksoud Plaza