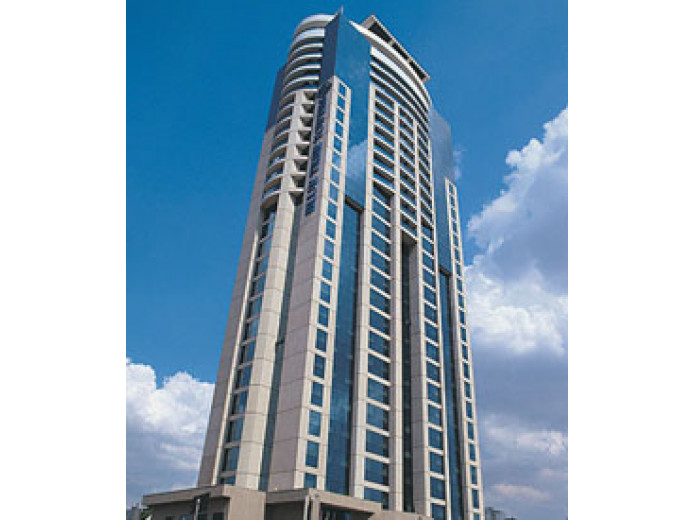 Blue Tree Towers Faria Lima, located in an upscale region of the city, is surrounded by leisure options, such as shopping malls, bars, restaurants and nightspots, besides large companies and the Congonhas Airport, located 6.7 km away. This hotel offers differentiated services and is fully equipped for leisure, business, social or corporate events.

ROOMS

The 338 rooms of Blue Tree Towers Faria Lima are divided into Standard, Superior, Luxury, Luxury Plus and Suites. Out of this total, 77 transform into offices with built-in beds that fit into the wall and all include the following:

- central air conditioning with individual control;
- two telephone lines;
- computer and internet connection;
- digital safe;
- cable TV;
- minibar.

The specifications of each category are:

Standard, Superior and Luxury (29 m²)
- three pillows on the bed.

Luxury Plus (29 m²)
- four pillows on the bed;
- bed covering;
- pillow covers;
- different color of decor;
- minibar with differentiated items;
- alarm clock.

Suites (34 m²)
- items of Luxury Plus;
- 200-thread gold-trimmed sheets and pillowcases;
- 200-thread gold-trimmed pillowcases;
- high-quality floor, bath and face towels;
- hand slippers and a bathrobe.

The hotel also offers floors for nonsmokers and rooms for people with special needs.
Hotel Information
Аrea information
The second largest city in the world, Sao Paulo is the capital of business tourism in the continent. The skyscrapers dominate the skyline in the largest city in Latin America, with 11 million inhabitants and a cosmopolitan and multicultural environment. HISTORY São Paulo's history began in 1554 when the village of São Paulo de Piratininga was founded. It was the birthplace of the "bandeirante" explorers, who set out exploring the country in search of gold and found it in vast quantities in Minas Gerais state in the 18th century. The gold led the village to prosper and it then became known as a city. In the 19th century, São Paulo welcomed many immigrants, including Italians, which contributed to the industrialization process. The capital city of São Paulo has currently lost its industrial power in light of the development of other cities, but it is one of Latin Americas most important cities for commerce, services and technology. CLIMATE São Paulo has a subtropical climate with an average temperature of 18.3 ºC (65 ºF). The summers are warm and the winters are cool. CULTURE It is impossible to speak of only a single culture in São Paulo since it is a city that has been greatly influenced by Italian, Chinese, Japanese, Portuguese and Lebanese immigrants, among others. What can be said is that it is multicultural and cosmopolitan, offering areas dedicated to the visual arts, cinema, theater, music and history, as well as folklore and classical culture. ATTRACTIONS - Ipiranga Museum: this museum was built in the renaissance style along the shores of the Ipiranga river and is the mark of the declaration of independence in Brazil. The museum's collection includes artifacts from the 19th century. - MASP (Museu de Arte de São Paulo): this is the most important museum in Latin America for western art. The museum's architecture, a building suspended by only two columns, is modern and appeals to the visitors as do the 3,487 artworks that recount the history of art since the Middle Ages up to the 20th century. - MAM (Museum of Modern Art): this museum was opened in 1948 by patron of the arts Francisco Matarazzo Sobrinho (Ciccillo Matarazzo) and his wife, the São Paulo aristocrat Yolanda Penteado, to exhibit Brazilian modernist artwork. The museum's collection includes work from artists such as Anita Malfatti, Joan Miró, Pablo Picasso, Marc Chagall, among others. - Ibirapuera Park: inaugurated in 1954, this park covers an area of 1,600,000 m2 and is located in the heart of the city. Ibirapuera is a leisure and recreational area that has become part of the culture of São Paulo. It is also used for fairs, exhibitions, shows and other activities. - Municipal Theater: this is one of the most important theaters of the continent. It is the base for artistic and cultural events, among which one of the main ones was the Modern Art Week in 1922. The theater, which was opened in 1911, is home to the Municipal Symphonic Orchestra of São Paulo, the Lyrical Choir and the City's Ballet. - Butantã Institute: this institute is home to 60 species of snakes from around the world, as well as spiders and scorpions. The animals are kept behind glass, in an open-air serpentarium or in caged-off areas, where monkeys are kept for research purposes. Solar da Marquesa de Santos: this is the residence of Maria Domitila de Castro Canto e Melo, the Marchise of Santos, better known in Brazil's history as one of the lovers of Dom Pedro I, built in the 18th century. - Memorial of the Immigrants: created in 1993, this memorial honors the immigrants by stressing the importance of immigration in the cultural and historical origins of São Paulo. It is comprised of the Immigration Museum, a Center for Research and Documentation and the centers for Transports and for Studies and Traditions. LINKS - São Paulo City Hall: http://www.capital.sp.gov.br - Stay another day (virtual tourism guide): http://www.fiquemaisumdia.com.br - Click SP (a photo of the city): http://www.flickr.com/groups/clicksp - São Paulo Tourist Points: http://www.flickr.com/groups/saopaulopontosturisticos - MASP (São Paulo Art Museum): http://masp.uol.com.br - Museu Paulista da USP (Ipiranga Museum): http://www.mp.usp.br
Food and Restaurants
In a modern and trendy environment, the Noah restaurant is the ideal place for a business lunch, meetings with friends or romantic dinners. Noah´s is known for its international and contemporary dishes, such as the Duo de Carpaccio, Crispy Shrimp, Oriental Meat and Banana Flambe with Foam. On the ground floor, the hotel offers the Gazebo, a covered outside area, which is the perfect place for lunches, early-evening cocktails or upscale events.
Rating information
174-288
Hotel Facilities
Activities
Fitness Centre
General
Rooms/Facilities for Disabled Guests Safety Deposit Box Cable/Satellite TV Designated Smoking Area Air-conditioning
Internet
High speed
Guest Parking
Available
Services
Room Service Meeting/Banquet Facilities Business Centre Dry Cleaning Ironing Service
Hotel Policies
Check in
14:00
Check out
12:00
Children and extra bed
One child free in parents' room
Blue Tree Premium Faria Lima