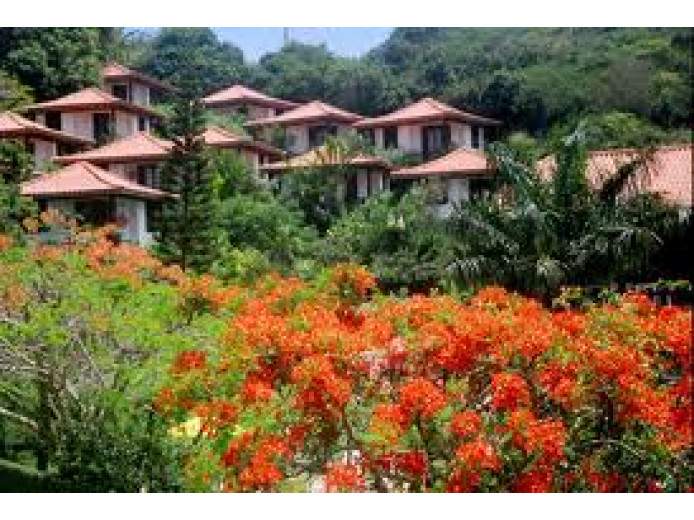 The family-run Hibiscus Beach Pousada is located only 100 meters from the João Fernandes Beach, which can be seen from the Polynesian-style bungalows offered by the hotel.

Set amidst tropical gardens, the bungalows are well-equipped and exclusively decorated with hand-painted furniture and regional handicrafts.

Next to the gardens, you will find an outdoor pool and a pleasant lounge, as well as a cozy dining room where a breakfast buffet with many options is served every morning.

Before setting off for an adventurous day in Búzios, surf the net for free to do your research and ask the hotel's friendly staff for the best tips on sightseeing and water sports.

HIBISCUS BEACH POUSADA
PayPal
You can pay by simply choosing PayPal at checkout
Do you have questions?
Call us right now to get your questions answered.
Hotel
Booking Code:

HIBISCUS BEACH POUSADA

Availability:

Available for Booking
Mid Season
Breakfast included
Possible booking
from
2015-03-01
to
2015-04-02
Please select your booking dates:
Nr. rooms
Price
Room Category
Title
Description
$218.75
tpl - TPL room
Bungalow Sea View
$168.75
dbl - DBL room
Bungalow Sea View
$168.75
sgl - SGL room
Bungalow Sea View
Mid Season
Breakfast included
Please select your booking dates:
Nr. rooms
Price
Room Category
Title
Description
$260.00
tpl - TPL room
Bungalow Sea View
$200.00
dbl - DBL room
Bungalow Sea View
$200.00
sgl - SGL room
Bungalow Sea View