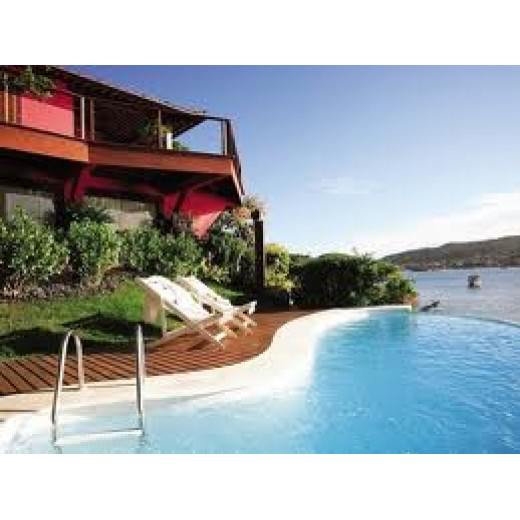 The Insolito Boutique Hotel offers exclusive rooms with bright tones and luxurious amenities in a Mediterranean-style building where beautiful sea views are also provided.

Each of the accommodations features a wooden deck overlooking the ocean. In the Insolito Suite, the balcony has an exclusive Jacuzzi as well.

Another Jacuzzi, an outdoor pool and a sauna are available for all guests. Spa services and many other activities for fun and relaxation are also provided on site.

The poolside bar provides more comfort to guests who wish to grab a snack or a cold drink enjoying the sun. The rooftop restaurant serves delicious specialties from Brazilian cuisine in a charming environment with flowers and hand-painted art.

Insolito Boutique Hotel
PayPal
You can pay by simply choosing PayPal at checkout
Do you have questions?
Call us right now to get your questions answered.
Hotel
Booking Code:

Insolito Boutique Hotel

Availability:

Available for Booking
LOW SEASON
BREAKFAST INCL
Possible booking
from
2015-08-31
to
2015-12-19
Please select your booking dates:
Nr. rooms
Price
Room Category
Title
Description
$603.75
sgl - SGL room
Superior
$603.75
dbl - DBL room
Superior
MID SEASON
BREAKFAST INCL
Possible booking
from
2015-04-01
to
2015-08-31
Please select your booking dates:
Nr. rooms
Price
Room Category
Title
Description
$568.75
dbl - DBL room
Superior
$568.75
sgl - SGL room
Superior
HIGH SEASON
BREAKFAST INCL
Possible booking
from
2015-02-01
to
2015-03-31
Please select your booking dates:
Nr. rooms
Price
Room Category
Title
Description
$757.50
dbl - DBL room
Superior
$757.50
sgl - SGL room
Superior
HIGH SEASON
BREAKFAST INCL
Possible booking
from
2015-01-02
to
2015-01-31
Please select your booking dates:
Nr. rooms
Price
Room Category
Title
Description
$793.75
sgl - SGL room
Superior
$793.75
dbl - DBL room
Superior