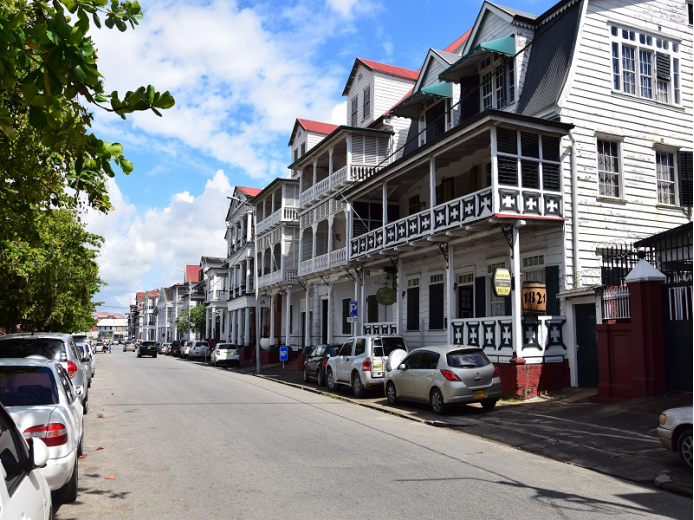 7 days / 6 nights
Travel the Three Guianas: three "undiscovered" treasures on the northern coast of South America. Visiting these three countries will give an unique experience in cultural diversity and cultural heritage. There is a mix of British, Dutch and French influences in architecture as well culture. Now you can experience these three countries in one visit! Experience many different cultures, three languages and a variety of activities within two weeks. Go on jungle hikes, experience the cultural diversity, visit authentic local villages, fly to the highest single drop waterfall in the world, see the biggest wooden city in the world and go to the space center where 85% of all telecom satellites are launched. We offer you a ten-day package that includes the must-sees of these three beautiful countries: Guyana, Suriname and French Guiana.
*Fixed departure dates every Friday. Except holidays and special dates.
Day 1: Arrival in Guyana
Today, you will arrive at the Cheddi Jagan International Airport in Guyana. You will have a meet and greet with your guide and you will transfer to Georgetown, where you will check in at your hotel.
Day 2: Georgetown
city tour and Kaieteur Falls: world's highest single-drop waterfall After breakfast, we will do a Georgetown City Tour. We will walk by breath-taking architecture of centuries gone by and visit the botanical gardens, the busy and 24-hour Stabroek local market and heritage sites that will be etched in your memory. After the Georgetown City Tour, we will drive to Eugene Correia International Airport (Ogle Airport) and take a 50-minute flight to the Kaieteur Waterfalls. Located in the Potaro river, this is the world's highest single-drop waterfall. The traps lie in the Amazon rainforest, in an area that has been declared a natural reserve: Kaieteur National Park. After visiting the Kaieteur falls for around 2 hours, we will fly back to Ogle Airport. Here you will be picked up and transferred to the international airport for your flight to Suriname. Upon arrival at the Johan Adolf Pengel International Airport in Suriname you will meet and greet with the driver and transferred to your hotel in Paramaribo. (B)
Day 3: Paramaribo city tour and a historical plantation tour
Today after breakfast, we will take a walk through the inner city of Paramaribo and see the most prominent historic buildings and their unique architecture. We will visit several UNESCO heritage sites, like the Independence Square, the Palm Garden, Fort Zeelandia and the waterfront. We will also visit the local market and the Maroon Market, where they sell lots of natural medicine. After the city tour, we will visit the historical coffee plantation Frederiksdorp. On our way there, you can enjoy the river with beautiful views and spot Pink belly dolphins. After sunset, we will drive back to the hotel in Paramaribo. (B)
Day 4: Suriname – French Guiana - Space center
In the morning, we will drive to Albina, a border city in the east of Suriname. Here we will go through customs and depart across the Marowijne river by piraque (tent boat) to St. Laurent, French Guiana. This will be a 10-minute boat trip. In St. Laurent, we will go through customs again. After this we will drive to Kourou and visit the Space Center. The Space Center is a 700-sq. km site, created in 1964 by the French space agency. With modern facilities, this is a responsive and high-performance space center and it is among the best in the world. After tour check into your hotel. (B)
Day 5: Devil's Island
Today, we will enjoy a full day at Devil's Island, or Îles du Salut, with a Catamaran. The penal colony of Cayenne, commonly known as Devil's Island (Îles du Diable), was a famous prison of the 19th and 20th century. It operated at several locations in French Guiana. Opened in 1852, it was notorious for being used for internal exile of French political prisoners during that period. You will also be able to swim in the ocean. After the Devils Island tour, we will travel back to the hotel in Kourou with the Catamaran. (B)
Day 6: Cayenne city tour and Transportation camp
After breakfast, After this visit, we will drive to Cayenne, the capital of French Guiana, where we will do a city tour. We will visit the highlights of the city and the heritage sites with their beautiful architecture. After this city tour we will drive back to Albina border and make a stop to visit the transportation camp St. Laurent du Maroni, which was the old main penal establishment of the France for a century. This is the jail where 'Papillon' was banned to and we will visit his cell too. We will continue back to Suriname and check into hotel of Paramaribo. (B)
Day 7: Departure from Paramaribo city
Today we will transfer you to the international airport in Paramaribo where you will depart from Suriname onwards.
Price Includes:
• Hotel, based 3* with breakfast • All ground transportation with AC mini buses • English speaking guide all the time • Meal plan as mentioned • Flight retour Kaieteur falls • Nature and local fees • All taxes • Flight to Suriname from Guyana • Overland transfer to French Guiana • Ferry service Suriname to French Guiana
Price does not Includes:
• Flight to Guyana and from French Guiana or Suriname • Visa if needed • Meals not mentioned
Notes:
-The tour to the space center in Kourou can cancel anytime without any notice or reason -A yellow fever certificate required for traveling in the Guianas -The Flight to Kaieteur is on full based or charter with a 5 or 13 seater -We can assist for visa to Suriname or Guyana -For a shorter travel time out Cayenne we would recommend to depart from Suriname -If you have a departure from Cayenne the price will be reduced with $282- per person.
Guyana, Suriname, French Guiana 2022