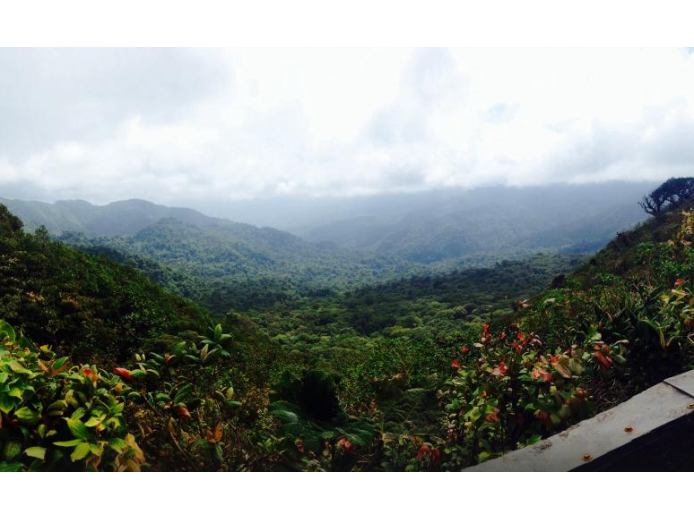 6 days/5 nights
Visit Costa Rica's most stunning jungle destinations in this custom vacation package ideal for the entire family. See the jungle up close, enjoy the beauty of the volcano and visit a cloud forest is an especially beautiful and rare type created by frequent mists from low- lying clouds characterized by massive trees covered by thick "carpets" of small plants.
The program is valid from 2 people on any day of departure except Christmas, Easter and New Year Season
The price of the program for 1 pax in $USD:
Day 1. San Jose
Arrival at Juan Santamaría International Airport. You will be met at the airport and transferred to the Hotel. Overnight at Hotel Exe San Jose Center.
San Jos.png
Day 2. San José / Arenal Volcano
This morning you will be picked at your hotel in San José for your journey towards the Central Mountain Range where you will visit an authentic Costa Rican coffee plantation and La Paz Waterfall Gardens and Poas Volcano on the way to Arenal. The main objective of the Coffee Tour is to educate and inform the whole production process as well as the processing of coffee, where you can learn about the production, the harvesting, the processing plant and the roasting of the grain. Later, we will start our tour to Poas Volcano. As we ascend towards the Poas Volcano we will notice the change in temperature and vegetation; we will see coffee plantations as well as fern, flower and strawberry farms along the way, creating a beautiful landscape. In the Volcano where we will not only admire the impressive main crater with its sulfur fumaroles, but also learn about the different ecosystems in this beautiful national park. Following the visit to the volcano we will continue to La Paz Waterfall Garden for lunch and tour. On arrival to the La Paz, we will walk through a trail, leading to a spectacular waterfall in the middle of the rainforest. Inside the park we will also visit the hummingbird gallery, the serpentarium, the bird house, the butterfly garden and the frog's exhibit. Overnight at Hotel Arenal Paraiso Resort & Spa (Meals: B,L,)
cofee beans.png
Day 3. Caño Negro Wildlife Refuge
Breakfast at the Hotel. You will enjoy the Caño Negro & Río Frío Boat Tour Specially for Nature lovers. This tour highlight is a boat ride on the Frío River, starting at Los Chiles, little town located 4 km from the Nicaraguan border. This river is part of the Caño Negro Wildlife Refuge –a Ramsar Site here you will find one of the most diverse flora and fauna habitats in Costa Rica. Along the river it is possible to observe great quantity of birds like a snake-bird herons, cormorants and animals such as: howler, spider or even white face monkeys, three –toed sloths, and some reptiles like caimans, Jesus Christ lizards and turtles. After lunch, back to Arenal. Overnight at Hotel Arenal Paraíso Resort & Spa. (Meals: B, L)
Costa-Rica11.png
Day 4. Arenal Volcano / Monteverde
Transfer to Monteverde in a different way. Travel between Arenal and Monteverde with Taxi –Boat –Taxi. This service is the fastest and a very scenic way to travel Between the Arenal Volcano and the cloud forests of Monteverde. Plus, you get to have a fun and scenic boat ride on Lake Arenal and see gorgeous views of Arenal Volcano! We will travel across the peaceful and picturesque Lake Arenal until we reach the other side to the small town of Rio Chiquito. Monteverde is one of the most-unique villages in all of Costa Rica. It has a small town, rural, country feel with a lot of cowboys walking around downtown Santa Elena, the main eco-touristic hot spot. Located in the heart of the Monteverde Cloud Forest, Selvatura Zip Lines and Hanging Bridges consist one of the few tours in Costa Rica that literarilly take you deep within the primary Monteverde Cloud Forest, providing a precious and unique experience we guarantee you'll always remember. Overnight at Hotel Montana Monteverde. (Meals: B)
CostaRicaJungle11.png
Day 5. Monteverde
Explore the enchanted Monteverde Cloud Forest Reserve with a set of expert eyes on a guided hike. You will explore several trails in search of birds and mammals and discuss the amazing diversity of plants. The tour is essentially a natural history walk in which you will learn about the incredible diversity of flora and fauna and many of the unique relationships many cloud forest species have with each other Overnight at Hotel Montana Monteverde. (Meals: B)
costa ric1.png
Day 6. San José
Transfer back to Juan Santamaria International Airport (Meals: B)
costa rica la fortuna falls11.png
Classic Costa Rica