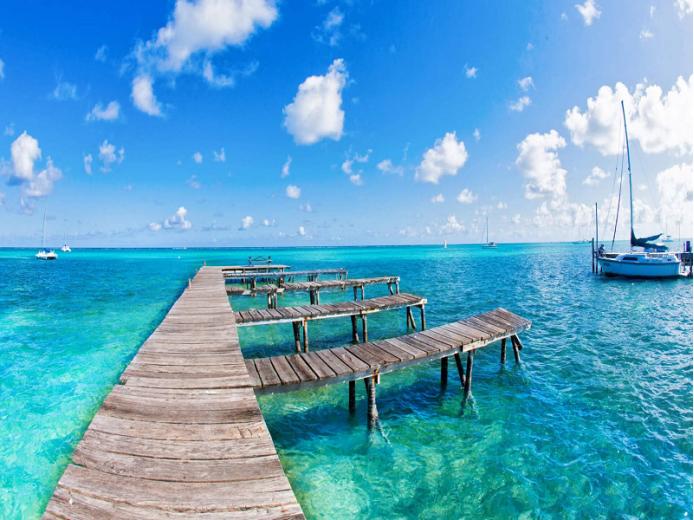 11 days /10 nights
Cancun (6n)- Ambergris Caye (3n)-Belize-city (1n)
| | |
| --- | --- |
| Cancun -Belize 11d10n | 1/2 DBL |
| Total per pax | $ 4809 |
*min 2 pax
Day 1 : Cancun
Arrival at the airport in Cancun. Transfer to Omni Cancun Hotel and Villas (All Inclusive)
Belize City.png
Day 2: Cancun
Today you will visit the Chichen Itza Archaeological Site (listed in the UNESCO World Heritage Site). This is a huge archaeological complex located on the Yucatan Peninsula. It was a major regional center of the Maya civilization, later it was conquered and rebuilt by the Toltecs, and therefore now it has many architectural styles. There are a huge number of stone structures, many of them have been restored. The dominant center of Chichen Itza is the Kukulkan Pyramid, which is often named the temple. We will finish the tour with a good swimming: after the great heat, it is pleasant to enjoy the cool water of the beautiful karst underground cenote Ik-Kiel.
beliz beach.png
Day 3: Cancun
Excursion to Tulum and Koba. Tulum is a port city and an important commercial center of the Mayan culture. Tulum, perched on a cliff overlooking the Mexican Caribbean sea, was a city where the ancient Mayans exchanged goods, as well as they imported the goods deep into the Yucatan Peninsula. You will be impressed with this small archaeological area, with its the fortress wall, temples and preserved frescoes and bas-reliefs. Transfer to the archaeological site of Koba, one of the oldest cities of the Mayan civilization. Koba (at its peak of approximately 50 square kilometers) was not only an important political and commercial center of the eastern coast of the Yucatan Peninsula, but also a place of great religious significance. Numerous white "sak bae" roads, Pok-ta-pok playgrounds, high pyramids-all these prove the great historical significance of the city. One of the most exciting moments of the tour is the ascent to Nohoch Mul, the highest (42 m) pyramid of the Yucatan peninsula.
Cancn.png
Day 4-6: Cancun
Free days for relaxing on the beach. Optional: you can book a group tour to the Xel-Ha Park (duration: about 10 hours). The price per person: $ 160 USD NET Xel-Ha Natural water park is an incredibly beautiful place. During the excursion to the Xel-Ha Park, one of the greatest and most beautiful natural wonders in the world, you will have a great opportunity to snorkel with tropical fish. Explore the tropical jungle while walking, biking, or taking a mini train. Enjoy the rare flora and fauna of the region in its natural habitat. A trip to the Xel-Ha Park on the Maya Riviera is an exciting all-inclusive adventure. After the active part of the tour, enjoy Mexican cuisine in one of the 4 restaurants in Xel-Ha Park. Xel-Há in Cancun is a natural water park with unlimited snorkeling, food and drinks!
cancun-beaches.png
Day 7: Cancun – Belize City
Transfer to the airport for your flight to Belize. Arrival in Belize city and transfer to the port. Then you will be transferred by water taxi to San Pedro Ambergris Caye (1.5 hours). Check-in and accommodation in Hotel Sunbreeze suites San Pedro (Ambergris Caye) The largest of Belize's islands, Ambergris Caye runs parallel to the magnificent Belize Barrier Reef. Once home to the ancient Maya (they created the island by digging a channel between it and Mexico), Ambergris is located 56 kilometers (35 miles) northeast of Belize City and is accessible by boat or plane. It's a popular destination for diving, snorkeling, sailing, fishing, kayaking, and windsurfing; trips to nearby Caye Caulker and the mainland are easy to plan, too. Formerly a fishing village, San Pedro is the island's only town; its sandy streets are lined with waterfront restaurants, hotels, tiki bars, and dive shops. Visitors to Ambergris should note that in order to protect the caye's natural environment, Belizean law prohibits the removal of coastal sea grass. Properties do their best to clean up grass that washes up on shore, but it's not uncommon to find a bit of sea green next to your cold bottle of Belikin.
cancun-beaches.png
Day 8: San Pedro Ambergris Caye
Today you will have a unique adventure, don't miss a chance to swim with nurse sharks in Hol Chan Marine Reserve. Hol Chan means Little Channel in Mayan and is a natural break on the barrier reef where ocean depth ranges from 3 to 30 feet. Here guests will enjoy seeing the breathtaking myriad of marine life and huge coral garden, among which are flourishing staghorn corals and sea fans. Shark Ray Alley is a shallow water snorkel where guests will enjoy swimming with the harmless nurse sharks and southern stingrays - this trip is a famous snorkel trip and a "must do" for Belize.
Day 9: San Pedro Ambergris Caye
One more day of snorkeling in Ambergris Caye. You will enjoy seeing the breathtaking myriad of marine life and huge coral garden, among which are flourishing staghorn corals and sea fans.
belize.png
Day 10: San Pedro Ambergris Caye
Optional: You can book Blue Hole Flyover Tour from San Pedro Ambergris( in a group) Duration of the fly: approx. 1 hour The price of the tour:$ 360 USD NET per pax After lunch transfer to Belize city by water taxi, arrival and transfer to Radisson Fort George Hotel and Marina.
beliz beach.png
Day 11: Belize City
In the morning you will have a city tour, then at the mentioned time transfer to the airport for your flight home. Belize City It's said that Belize City was built on a foundation of wood chips, coral, and empty rum bottles. Whether or not that's true, this city of 80,000 people certainly has a storied past. Over the centuries, it's served as a Maya settlement, a pirate stronghold, a British logging town, and the British Empire's Central American seat of power. More recently, it was the capital of the country until Belmopan took the title in 1970. Surrounded by the Caribbean Sea on three sides, Belize City comprises faded Victorian mansions, cinder block buildings, and traditional Creole eateries. It's divided in two by Haulover Creek. The northern side is home to popular sights like the Fort George Lighthouse, the Museum of Belize, and the Baron Bliss Memorial; the south side is an urban rigmarole of banks, businesses, and markets.
beliz beach.png
Cancun & Belize 2023