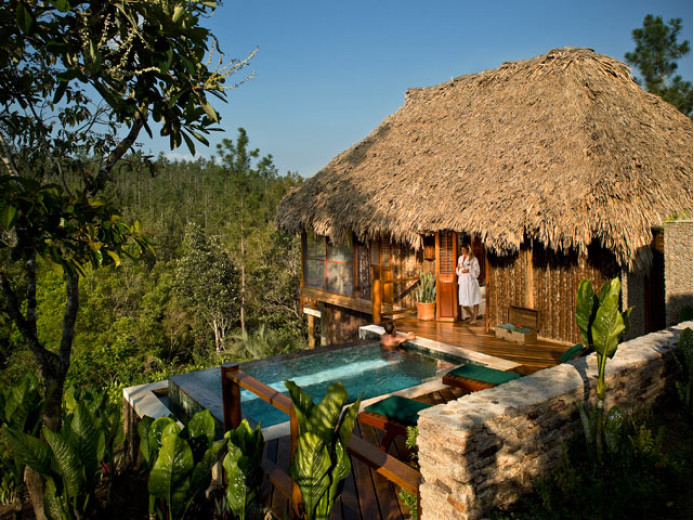 Tucked away in a pocket of the Maya Mountains, Blancaneaux Lodge is a 20-room luxury resort hotel in Belize where waterfalls tumble into turquoise pools above the jungle canopy. Its remote mountain setting makes it a perfect place to relax, rejuvenate and enjoy life's simple pleasures.

Guests can also explore the ancient civilization of the Maya, which still endures in the sacred sites throughout this magical region. From the ceremonial caves along the white-water rivers of the Mountain Pine Ridge Reserve

to stalactite caverns and the vast ruins of Caracol deep within the lush rainforest, Blancaneaux is your window into the world of natural and archaeological wonders.
Hotel Information
Аrea information
Blancaneaux Lodge is a luxury resort hotel in Belize located in the northwest corner of the 107,000-acre Mountain Pine Ridge Forest Reserve in western Belize's Cayo District. The lodge itself is nestled on the bank of Privassion Creek and is set among tropical pines, oaks, palmetto, craboo and ancient melastome shrubs. Within a couple of miles of the lodge lie the steep limestone hills and valleys of the 13,000-acre Noj Kaax Meen Elijio Panti National Park. The dense jungle, steep ravines, spectacular waterfalls and fast flowing rivers are uninhabited and home to many rare or endangered species of flora and fauna. Beyond the Mountain Pine Ridge lies the vast uninhabited network of 14 protected areas that comprise the 1.2 million acre Maya Mountain Massif. Less than an hour drive along dirt roads to Guacamallo Bridge, the granite bedrock and red soils of the Mountain Pine Ridge meet the karst limestone and moist tropical broadleaf forests of the 264,000-acre Chiquibul National Park and the Caracol Archaeological Reserve.
Food and Restaurants
Montagna Ristorante - Classic Italian cuisine in a romantic tropical setting. Guatemaltecqua Restaurant - poolside restaurant, specializes in the cooking of Guatemala, a mildly-spiced cuisine that draws on Mexican, Caribbean and Mayan traditions. Local favorites include Salpicon, shredded beef salad flavored with sour orange and cilantro, Jocon, chicken cooked with green herbs and spices, and Rellenitos, a delicious dessert consisting of plantains filled with sweetened black beans. Jaguar Bar - After a day of tours and activities, the Jaguar Bar is a perfect place to relax. The hand-carved slate bar, ceiling fans from the set of Apocalypse Now, framed pictures of local archaeological digs and handmade furnishings create a truly eclectic atmosphere.
Hotel Facilities
Activities
Outdoor Swimming Pool
General
Restaurant
Guest Parking
Free parking.
Services
Room Service Tour Desk
Blancaneaux Hotel