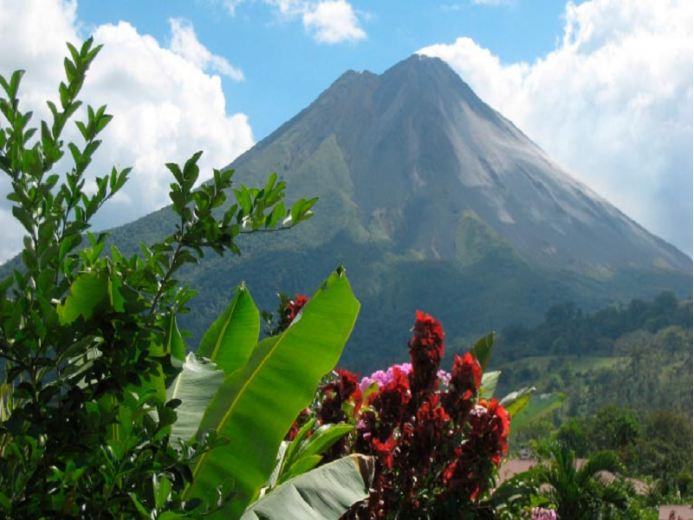 10 days/ 9nights
This itinerary highlight the icons of our beautiful Costa Rica: the cool cloud forest, lowland rainforest, beaches, farmlands, and volcanoes. Experiences such as close encounters with flora and fauna, spying howler monkeys and colorful birds, zip lining through the canopy, hiking through the rainforest, and home-hosted meals are but a few of those you'll enjoy!
Program is valid from 2 pax for any date of arrival except for Christmas, Easter and New Year Season
The price of the program for 1pax in $ USD:
Day 1: San José
Arrival at Juan Santamaría International Airport. You will be met at the airport in order to transfer to the Hotel. Overnight at Hotel Palma Real.
Day 2: San José / Doka Coffee Tour / Poas Volcano / La Paz Waterfall Gardens
This morning you will be picked at your hotel in San José for your journey towards the Central Mountain Range where you will visit an authentic Costa Rican coffee plantation and La Paz Waterfall Gardens and Poas Volcano. The main objective of the Coffee Tour is to educate and inform the whole production process as well as the processing of coffee, where you can learn about the production, the harvesting, the processing plant and the roasting of the grain. Later, we will start our tour to Poas Volcano. As we ascend towards the Poas Volcano we will notice the change in temperature and vegetation; we will see coffee plantations as well as fern, flower and strawberry farms along the way, creating a beautiful landscape. In the Poas Volcano where we will not only admire the impressive main crater with its sulfur fumaroles, but also learn about the different ecosystems in this beautiful national park. Following the visit to the volcano we will continue to La Paz Waterfall Garden for lunch and tour. On arrival to the La Paz, we will walk through a trail, leading to a spectacular waterfall in the middle of the rainforest. Inside the park we will also visit the hummingbird gallery, the serpentarium, the bird house, the butterfly garden and the frog's exhibit. Back to San José. Overnight at Hotel Palma Real. (Meals: B, L)
Day 3: San José / Tortuguero National Park
We begin our trip early in the morning between 6:00 am from San Jose. You will be traveling with a bilingual naturalist guide on an air conditioned bus. Drive through Braulio Carrillo National Park, where you have the opportunity to see beautiful views and abundant vegetation. On the way we will stop for breakfast at Selva Tropical Restaurant where you can enjoy a butterfly garden with a variety of tropical flowers. After breakfast we will continue our trip to Caño Blanco deck driving by banana plantations. At Caño Blanco, you will board the covered boat to the lodge, passing the Tortuguero canals arriving between 12:30 p.m. to 1:00 p.m. In the afternoon you will visit to the Turtle Museum of the C.C.C. (Caribbean Conservation Corporation) and to the colorful Tortuguero town. You will return to the lodge around 5:30 p.m. Free time to enjoy the pool, the bar service and prepare for your dinner. Dinner service from 7:30 p.m. to 9:00 p.m. and then rest of the night free to enjoy the surroundings, pool and bar. Overnight at Hotel. (Meals: B, L, D)
Day 4: Tortuguero National Park / Arenal Volcano
6:15 am tour to admire the awakening of the wildlife of Tortuguero. Return for breakfast (service between 7:00 a.m. to 9:00 a.m.). Continue to the northern lowlands of Arenal Volcano and La Fortuna town. Relax in the best hot springs of the área. Overnight at Hotel Arenal Paraíso Resort & Spa. (Meals: B)
Day 5: Celeste River
Rio Celeste National Park Guided Hike - In search of the blue waterfall in Costa Rica! The Rio Celeste National Park is a beautiful 1.5 hour scenic drive from the Arenal Volcano through rural villages. The Río Celeste waterfall is near the Tenorio and Miravalles Volcanoes and is becoming an increasingly popular area to visit in Costa Rica for hiking. Once we arrive, we will begin a hike through the dense, lush, tropical rainforest that surrounds the Tenorio National Park. You and your nature guide can go at your own pace and you'll learn interesting things about the rainforest along the way. When we arrive to Los Tenideros, where two rivers come together, you'll be amazed at the celestial turquoise blue water color that comes from the waterfall. Local legend as explained by members of the Maleku indigenous group of the area claim that God was painting the sky a celestial blue color and reached down to dip his brush to turn the river its magical blue color. But for a more scientific explanation, the celestial blue color is created when the minerals in the water: aluminum, silicon and oxygen are suspended in the water and refracts light from the sun so that the flow looks blue. Overnight at Hotel Arenal Paraíso Resort & Spa. (Meals: B, L)
Day 6: Arenal Volcano / Monteverde
Transfer to Monteverde in a different way. Travel between Arenal and Monteverde with Taxi-Boat-Taxi. This van-boat-van service is the fastest and a very scenic way to travel between the Arenal Volcano and the cloud forests of Monteverde. Plus, you get to have a fun and scenic boat ride on Lake Arenal and see gorgeous views of Arenal Volcano! We will travel across the peaceful and picturesque Lake Arenal until we reach the other side to the small town of Rio Chiquito. Monteverde is one of the most-unique villages in all of Costa Rica. It has a small-town, rural, country feel with a lot of cowboys walking around downtown Santa Elena, the main eco-touristic hot spot. Located in the heart of the Monteverde Cloud Forest, Selvatura Zip Lines and Hanging Bridges consist one of the few tours in Costa Rica that literarily take you deep within the primary Monteverde Cloud Forest, providing a precious and unique experience we guarantee you'll always remember. Overnight at Hotel Montaña Monteverde. (Meals: B)
Day 7: Monteverde / Manuel Antonio National Park
Turn a travel day from Monteverde to Manuel Antonio into a nature packed adventure with The Tarcoles River Boat Tour! What a better way of breaking up the 5 hours of travel in between Monteverde and Manuel Antonio than with the Tarcoles River Crocodile sightseeing tour. Keep your eyes peeled for a multitude of wildlife including the famous, huge, 20-ft American crocodiles or rare sighting of the Scarlet Macaw that inhabit the Carara Biological Reserve. Plus, if you're traveling with children, they'll get a kick out of the "Jesus Christ Lizards" that literally walk on water here. You'll be accompanied by a bilingual guide who will point out the often difficult-to-see wildlife along this two-hour boat tour of the Tarcoles River and into the Guacalillo mangrove estuary. You're bound to see more crocodiles here than anywhere else in the world! Overnight at Hotel Mimos. (Meals: B, L)
Day 8: Manuel Antonio National Park
Explore the pristine natural beauty of this world famous Manuel Antonio National Park filled with exotic wildlife such as monkeys, sloths, birds, reptiles and butterflies. Your picturesque 2-mile hike will take you to one of the beaches named most beautiful in the world by Forbes magazine. Experience the lush rainforest behind you, white sandy beaches below, and crystallineblue waters during this refreshing 20-minute beach stop. Have your camera ready, as your knowledgeable guide sets his trained eyes on diverse flora and fauna for you to capture along the way. Overnight at Hotel Mimos. (Meals: B, L)
Day 9: Manuel Antonio National Park
Free Day. Overnight at Hotel Mimos. (Meals: B, L)
Day 10: San José
Transfer to Juan Santamaria International Airport. (Meals: B)
The price of the program includes:
-Transportation -Entrance fees -Guided Tours as per the itinerary (English Speaking Guide) -Lodging and local taxes -Meals accord to itinerary: Breakfast (B), Lunch (L), Dinner (D)
The price of the program does not include:
-Optional Activities. -Tortuguero National Park --Entrance Fee ($17 per person) -Arrival and Departure Taxes -Extras in hotels (laundry, phone calls, room service, etc.)
Treasures of Costa Rica 2023