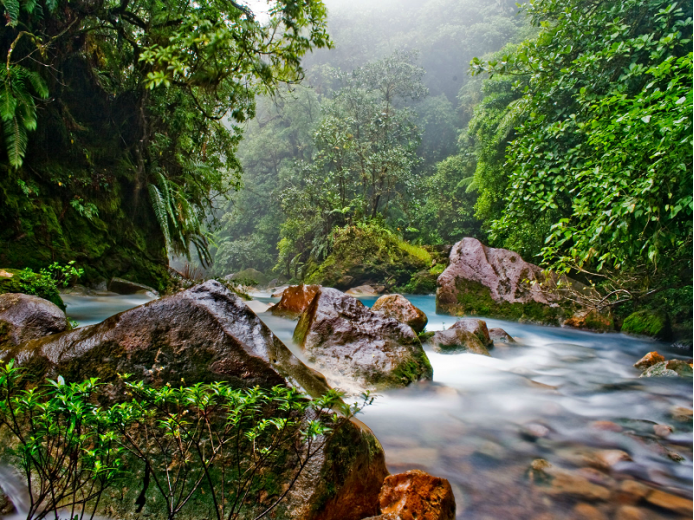 14 days/13 nights
As its name says, this package will show you a bit of everything. A potpourri of the most beautiful tourist destinations of Costa Rica.
The program is valid from 2 people on any day of departure except Christmas, Easter and New Year Season
The price of the program for 1pax in $ USD:
Day 1: San José
Arrival at Juan Santamaría International Airport. You will be met at the airport in order to transfer to the Hotel. Overnight at Hotel Palma Real.
Day 2: San José / Doka Coffee Tour / Poas Volcano / La Paz Waterfall Gardens
This morning you will be picked at your hotel in San José for your journey towards the Central Mountain Range where you will visit an authentic Costa Rican coffee plantation and La Paz Waterfall Gardens and Poas Volcano. The main objective of the Coffee Tour is to educate and inform the whole production process as well as the processing of coffee, where you can learn about the production, the harvesting, the processing plant and the roasting of the grain. Later, we will start our tour to Poas Volcano. As we ascend towards the Poas Volcano we will notice the change in temperature and vegetation; we will see coffee plantations as well as fern, flower and strawberry farms along the way, creating a beautiful landscape. In the Poas Volcano where we will not only admire the impressive main crater with its sulfur fumaroles, but also learn about the different ecosystems in this beautiful national park. Following the visit to the volcano we will continue to La Paz Waterfall Garden for lunch and tour. On arrival to the La Paz, we will walk through a trail, leading to a spectacular waterfall in the middle of the rainforest. Inside the park we will also visit the hummingbird gallery, the serpentarium, the bird house, the butterfly garden and the frog's exhibit. Back to San José. Overnight at Hotel Palma Real. (Meals: B, L)
Day 3: San José / Tortuguero National Park
We begin our trip early in the morning between 6:00 am from San Jose. You will be traveling with a bilingual naturalist guide on an air conditioned bus. Drive through Braulio Carrillo National Park, where you have the opportunity to see beautiful views and abundant vegetation. On the way we will stop for breakfast at Selva Tropical Restaurant where you can enjoy a butterfly garden with a variety of tropical flowers. After breakfast we will continue our trip to Caño Blanco deck driving by banana plantations. At Caño Blanco, you will board the covered boat to the lodge, passing the Tortuguero canals arriving between 12:30 p.m. to 1:00 p.m. In the afternoon you will visit to the Turtle Museum of the C.C.C. (Caribbean Conservation Corporation) and to the colorful Tortuguero town. You will return to the lodge around 5:30 p.m. Free time to enjoy the pool, the bar service and prepare for your dinner. Dinner service from 7:30 p.m. to 9:00 p.m. and then rest of the night free to enjoy the surroundings, pool and bar. Overnight at Hotel. (Meals: B, L, D)
Day 4: Tortuguero National Park / Arenal Volcano
6:15 am tour to admire the awakening of the wildlife of Tortuguero. Return for breakfast (service between 7:00 a.m. to 9:00 a.m.). Continue to the northern lowlands of Arenal Volcano and La Fortuna town. Relax in the best hot springs of the área. Overnight at Hotel Arenal Paraíso Resort & Spa. (Meals: B)
Day 5: Arenal Volcano
AM: The Arenal Hanging Bridges at Mistico Park is a beautiful, environmentally-friendly nature project located near the Arenal Volcano for walking tours. This is considered one of the best nature walks in La Fortuna, Costa Rica. There are trails and bridges that bring you as close as you could ever hope to get to the birds, flowers, and the lush vegetation of this primary rainforest. This is the perfect tour for nature enthusiasts visiting Costa Rica! The trails are designed for all ability levels and cover a total of about 2 miles. Once you are on walking along, you will be able to admire the great diversity of flora and fauna typically found in the tropical rain forest and also have the opportunity to see many different birds and plant species for approx 2.5 hrs. Walk right into the forest along several stretches of hanging bridges overlooking the tree canopy along easy, safe and beautiful trails with views of the Arenal Volcano. Appreciate the wildlife as you cross the 15 different bridges, 6 of them are the ones hanging. PM: The Arenal Volcano 1968 Park and other reserves along the border of the National Park are one of the most visited places in all of Central America. The trails in Arenal Volcano1968 Park and other nearby Arenal Reserves are generally not very strenuous -- perfect for a leisurely and informative hike with one of our professional nature guides. This part of the Arenal Volcano had sections that were devastated by the lava flow of 1968, so some areas have very little vegetation. This guided walk of the1968 Trail provides perfect photo opportunities and magnificent views of the impressive Arenal Volcano, the pristine Lake Arenal and the extinct volcano Cerro Chato. We have chosen the appropriate trail for better wildlife viewing. There are parts of each trail that has forested areas where your nature guide will try to spot birds, monkeys and other animals in their natural habitat. Overnight at Hotel Arenal Paraíso Resort & Spa. (Meals: B)
Day 6: Arenal Volcano / Monteverde
Transfer to Monteverde in a different way. Travel between Arenal and Monteverde with Taxi-Boat-Taxi. This van-boat-van service is the fastest and a very scenic way to travel between the Arenal Volcano and the cloud forests of Monteverde. Plus, you get to have a fun and scenic boat ride on Lake Arenal and see gorgeous views of Arenal Volcano! We will travel across the peaceful and picturesque Lake Arenal until we reach the other side to the small town of Rio Chiquito. Monteverde is one of the most-unique villages in all of Costa Rica. It has a small-town, rural, country feel with a lot of cowboys walking around downtown Santa Elena, the main eco-touristic hot spot. Located in the heart of the Monteverde Cloud Forest, Selvatura Zip Lines and Hanging Bridges consist one of the few tours in Costa Rica that literarily take you deep within the primary Monteverde Cloud Forest, providing a precious and unique experience we guarantee you'll always remember. Overnight at Hotel Montaña Monteverde. (Meals: B)
Day 7: Monteverde
Explore the enchanted Monteverde Cloud Forest Reserve with a set of expert eyes on a guided hike. You will explore several trails in search of birds and mammals and discuss the amazing diversity of plants. The tour is essentially a natural history walk in which you will learn about the incredible diversity of flora and fauna and many of the unique relationships many cloud forest species have with each other. Overnight at Hotel Montaña Monteverde. (Meals: B)
Day 8: Monteverde / Manuel Antonio National Park
Transfer to Manuel Antonio. Free Afternoon. Overnight at Hotel Mimos. (Meals: B)
Day 9: Manuel Antonio National Park
Explore the pristine natural beauty of this world famous Manuel Antonio National Park filled with exotic wildlife such as monkeys, sloths, birds, reptiles and butterflies. Your picturesque 2-mile hike will take you to one of the beaches named most beautiful in the world by Forbes magazine. Experience the lush rainforest behind you, white sandy beaches below, and crystalline blue waters during this refreshing 20-minute beach stop. Have your camera ready, as your knowledgeable guide sets his trained eyes on diverse flora and fauna for you to capture along the way. Overnight at Hotel Mimos. (Meals: B)
Day 10: Manuel Antonio National Park / Corcovado National Park
Early transfer to Sierpe Lock. Then, you will take boat trip down the Sierpe River viewing mangrove wetlands. Arrive at Rancho Corcovado, complementary cocktail before lunch. Afternoon is free to nature trails and the best beach spots. Overnight at Hotel Rancho Corcovado. (Meals: B, L, D)
Day 11: Corcovado National Park Tour
The Sirena Park Ranger Station is situated in the heart of Corcovado National Park. Its location is more remote, a 50 minute boat ride from Drake Bay, with a wet landing on the beach for which it is recommended that you wear sandals. Upon reaching the Sirena Ranger Station in Corcovado National Park, you will have the chance to change to more rugged footwear to hike some of the Park´s wildest terrain. Since this station is less accessible, there is greater opportunity to spot some of the rarest rainforest wildlife. Sirena rewards the more adventurous traveler with the true experience of what National Geographic Magazine has called "the most biologically intense place on earth." Overnight at Hotel Rancho Corcovado. (Meals: B, L, D)
Day 12: Cano Island Diving Tour
Lying in the beautiful blue Pacific Ocean, 12 nautical miles; offshore from the Osa Peninsula at Drake Bay, Cano Island is an amazing marine biological reserve in Costa Rica. Cano Island is an island of considerable geographical and archeological importance. The real beauty of Cano Island is not found on its land, but underwater. The Cano Island's virgin waters are some of the bluest in the country, and are home to a spectacular variety of stunning marine flora and fauna as well as some gorgeous coral reefs. Cano Island is Rated as being the best underwater adventure diving spots in the world, the Cano Island Biological Reserve is also home to a huge variety of fish, whales and sharks. With fantastic underwater visibility, one can see on any given day, sea turtles, dolphins, stingrays, manta rays, moray eels, barracudas, tuna, snapper and grouper swimming alongside a variety sharks and humpback or pilot whales. (Meals: B, L, D)
Day 13: San José
Fly and transfer back to San José. Free Afternoon. Overnight at Hotel Exe San Jose Center. (Meals: B)
Day 14: San José
Transfer to Juan Santamaria International Airport. (Meals: B)
The price of the program includes:
-Transportation -Entrance fees -Guided Tours as per the itinerary (English Speaking Guide) -Lodging and local taxes Meals accord to itinerary: Breakfast (B), -Lunch (L), Dinner (D)
The price of the program does not include:
-Optional Activities. -Arrival and Departure Taxes Tortuguero National Park Entrance Fee ($17 per person) -Extras in hotels (laundry, phone calls, room service, etc.)
The Best of Costa Rica 2023