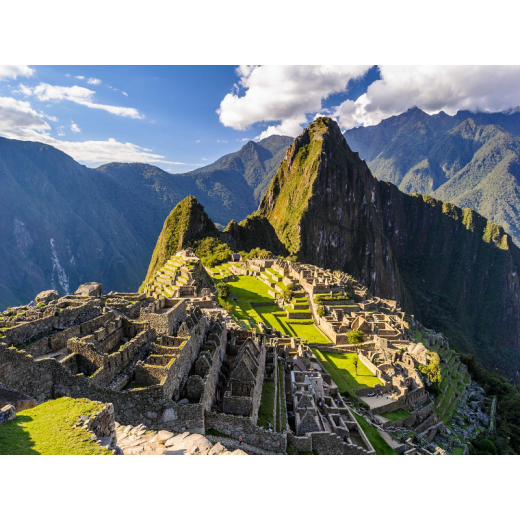 8 days/7nights
Lima, Cusco, Inca Trail and Machu Picchu
Walking with a backpack on your shoulder, the path has no limits. Neither what we will experience here. We will travel the Sacred Trail of the Incas in a pilgrimage to our own interior being. Our astonishment will be behind every single stone. The magic, hidden all over the place. What we will discover at the end of the path may be more than what we expect to see.
Highlights:
Llaqtapata archaeological site

Warmiwañusca pass

Runcuracay archaeological site

Phuyupatamarca archaeological site

Wiñaywayna archaeological site

Machu Picchu, lost citadel.
.
The program is valid till December 31, 2023
Daily departures
The price of the program in USD per pax:
Day 1: Welcome to Lima
Arrival to the city of Lima, assistance, and transfer to the hotel.
Day 2: Welcome to Cusco
Transfer to the airport to take your flight to Cusco. Arrival, assistance, and transfer to the hotel.
Day 3: Cusco at your Pace
Free day. Cusco offers many cultural, archaeological and adventure-oriented activities. Reserve the activities with anticipation. We recommend: Vinicunca, the Rainbow Mountain. Located at 5000 m.a.s.l. in the heights of the Valley of the Vilcanota River in the mountain range of the Ausangate snowcapped mountain, this beautiful mountain has become one of the main attractions and great wonders of Cusco. Kayak in the Huaypo Lake. One day of contact with our inner being, paddling in a kayak on the Huaypo Lake with the snowcapped mountains as the backdrop. A moment to relax and let the silence invade and renew our energy. Lunch on the lake banks.
Day 4: Inca Trail:
Piscacucho to Wayllabamba. The great adventure starts! After pickup from our hotel, we will stop by Ollantaytambo (2,792 m / 9,160 ft) to take care of the last shopping and later go to Piscacucho (2,750 m / 9,022 ft), in the Km 82 of the railroad track, to enter the network of the Inca Trail. Start with a light walk that will allow us to get acclimatized. Appreciate the beautiful snowcapped mountain Veronica and will arrive to a natural observation point from where we can see at a distance the archaeological site of Llaqtapata. Continue till our first camp in Huayllabamba (3,000 m / 9,842 ft) Distance: 12 km / 7.45 mi Approximate time: 5-6 hrs. Maximum altitude reached: 3,000 m / 9,842 ft Camp: Huayllabamba (3,000 m / 9,842 ft) Highlights: Panoramic view of Llaqtapata and of the snowcapped mountain Verónica.
Day 5: Inca Trail:
Wayllabamba, Llulluchapampa, Warmiwañusca, Pacaymayo. We are approaching the most intense day of the Inca Trail, let's make sure that we have some extra candy in our traveling bag for the extra energy. Move forward through the Valley of Huayllabamba while we observe the ecological change going from the mountain range to the high Andean plateau (puna). In Yunca Chimpa get ready for the ascent to Llulluchapampa (3,750 m / 12,303 ft). While we enjoy a refreshing snack, appreciate the Valley of Huayanay and our challenge of the day, the defiant Warmiwañusca Pass (4,200 m / 13,799 ft), also known as "Of the Dead Woman". If we are fortunate enough, we might be able to enjoy the beautiful hummingbirds and sparrows that live in the area. Finally, descend till we reach our camp in Pacaymayo (3,600 m / 11,811 ft) to have lunch and rest after this day of challenges and spectacular views. Distance: 11 Km / 6.83 mi Approximate time: 6-7 hrs. Maximum altitude reached: 4,200 m / 13,799 ft Camp: Pacaymayo (3,600 m / 11,811 ft) Highlights: Pass of Warmiwañusca.
Day 6: Inca Trail:
Runcuracay, Sayacmarca, Phuyupatamarca, Wiñay Wayna. Today awaits us the largest archaeological load of our walk, it will be the longest day but at the same time the day that will impress us most and with a lesser degree of difficulty. We will ascend to the Runcuracay Pass (3,860 m / 12,664 ft) where we will visit the archaeological complex that has the same name and will continue to the Inca citadel of Sayacmarca (3,580 m / 11,745 ft). After lunch, cross the Phuyupatamarca Pass (3,700 m / 12,139 ft). In the area, appreciate the Inca complex best preserved of the whole Inca Trail, its meaning in Spanish is "over the clouds". After a refreshing rest, continue to Wiñaywayna (2,650 m / 8,694 ft), an Inca complex that will leave us astonished with its many agricultural terraces and its religious and urban centers. Here we will finish this day, camp out and have our farewell dinner. Distance: 16 km / 9.93 mi Approximate time: 8 hrs. Maximum altitude reached: 3,860 m / 12,664 ft Camping area: Wiñaywayna (2,650 m / 8,694 ft) Highlights: Runcuracay, Sayacmarca, Phuyupatamarca and Wiñaywayna
Day 7: Inca Trail:
Wiñay Wayna, Inti Punku, Machu Picchu, Cusco. We are one step away from reaching our main objective. Get up at dawn to ascend thru a narrow path of stairs until we reach the Intipunku or Puerta del Sol (Sun Gate) (2,720 m / 8,923 ft) and enjoy a view of Machu Picchu (2,450 m / 8,038 ft) that will leave us breathless, we can appreciate the daybreak and photograph this Inca refuge at a distance. Descent to benefit from a guided visit to the citadel, where we will get a detailed explanation of the different areas of this Wonder of the World. Descent to the village located on the foot of the mountain. Lunch. At the appropriate time, departure by train to Cusco. Arrival and transfer to the hotel. Distance: 4 km / 2.48 mi Approximate time: 2 hrs. Maximum altitude reached: 2,720 m / 8,923 ft Highlights: Intipunku and Machu Picchu.
Day 8: Farewell day
Transfer to the airport to take your flight to Lima and connect with your international flight to your home.
Included:
• Private transfers from airport to hotels. • Shared transfer to the train station. • All admission tickets on tours. • Shared Tours with english-spanish speaking guide. • Round trip railway ticket to Machu Picchu according with selected hotel category. • 3 lunches on camp sites. • 3 dinners on camp sites. • 1 lunch at Machu Picchu town restaurant. • 1 night of accommodation in Lima in selected hotels. • 3 nights of accommodation in Cusco in selected hotels. • 3 night of accommodation in tents during Inca trail. • Camp equipment: tents, meals, chairs, tables, dinning tent, cups, kitchenware, campsite mat, glasses. • Daily breakfast. • Daily breakfast.
Not Included:
• Tips for porters, cooker, and guides in the inca Trail (we suggest USD 100 per person). • Sodas or alcoholic drinks.
Peru 2023: Sacred Inca Trail to Machu Picchu