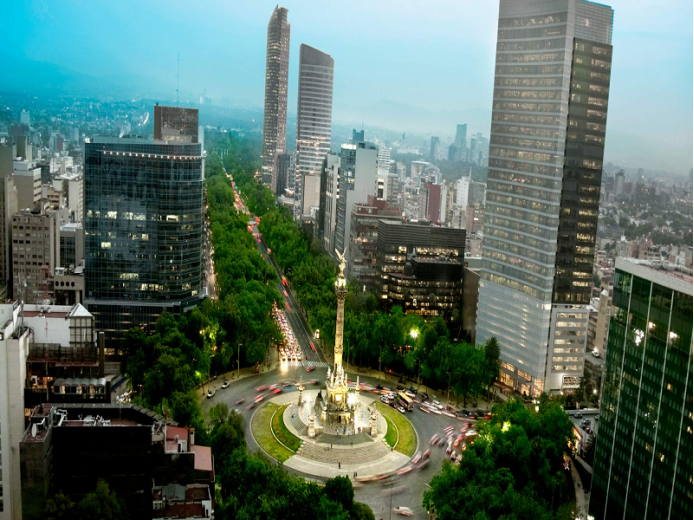 5 days /4 nights
Mexico City, although sometimes still called the biggest city in the world, may not be it anymore, but you will be impressed anyway! More than 20 million people live in the metropolitan and densely urbanized area in the central valleys of Mexico. To the surprise of many if not even most first visitors to Mexico, the capital bursts with charming city quarters, avenues and boulevard with lots of green, wide boardwalks to stroll and enjoy a relaxed walk. Here in Mexico City all Mexico comes together. National Migration has brought not only people, but also traditions and costumes from all regions of Mexico to the capital. In some short days, this program will show you the most possible of this wonderful merger and its origins.
The price of the program in USD per pax in DBL or Twin / on base of min. 2 /
Day 1: Mexico City
Welcome in airport MEX by your local, English-speaking guide. Transfer to a centrally located hotel for check-in (earliest possible check-in hour at 15:00h local MEX time). Be introduced by your guide with a short orientation walk around your hotel, for then to have the resting time of day free at leisure.
Day 2: Historical Center, Markets & Templo Mayor (B)
Breakfast in hotel. Your guide will pick you up in hotel to start the sightseeing of Mexico City in its historical center (UNESCO World Heritage ) walking. Get along Zócalo main square, have panoramic views on National Palace, Latinoamericana skyscraper, Tolsá Square and Main Post Office. Have a view into Fine Arts Palace, to see and learn about the famous Mural Painting Mexican art. Pass along Alameda Central Park to enter San Juan quarter and reach the market hall there, which is famous for its great and so original range of all kinds of fresh food, fruit and vegetables. See what is typical for Mexico, taste from what is all day food for the locals. Where has all this tradition its origin? In ancient Tenochtitlán, capital of prehispanic Aztec Empire in Mesoamerica. See so called 3-Cultures- Square, where the prehispanic ruins remain next to the colonial St.-Jacob-church and surrounded by the rather modern high rise living area of Nonoalco-Tlatelolco. Tlatelolco, in prehispanic times, was the quarter of market commerce, where all people came together, outside the theocratic center of Tenochtitlán, to offer all kinds of goods for all-day life, vegetables, fruits, animals, pottery…..and next to Zócalo main square visit then also the ruins and museum of Templo Mayor, where the Aztec temple ruins were discovered in the late 1960's during the excavation works for Mexico City's metro line system (Templo Mayor open TUE-SUN, closed Mondays – in case of closure day, the visits can be completed with a view and panoramic walk in elegant city quarters of Roma Norte and Condesa, to learn about how this great capital has grown over the recent centuries and decades). Optional / not included in package price: we recommend having an evening dinner reservation in some distinguished and/or most popular restaurant in Mexico, enjoy this dinner out with having the evening round transfer hotel-restaurant-hotel with your English-speaking driver-guide.
Day 3: Xochimilco Cooking & Floating Gardens – Coyoacán & Frida Kahlo (B, L)
Breakfast in hotel. Morning drive into southern parts of Mexico City to reach Xochimilco town, which is part of the capital. Meet the local family, with which you will go to market hall to buy ingredients, for then to get to their private home and kitchen for your cooking class on typical Mexican recipes and finally have a wonderful ride on your private Trajinera boat along the ancient canals of Floating Gardens of Xochimilco (UWH) with its agricultural Chinampa islands. Enjoy a tasty lunch on board, before then in afternoon to get into Coyoacán colonial quarter, where you will visit also the Blue House, which is the Museum Frida Kahlo, which houses a charming exhibition about the famous artist's life, her art and connected oeuvre to her and her husband Diego Rivera. Visit the main building and exhibition on your own, before your guide will receive you again on your exit from the museum. Evening return to hotel for resting free time.
Day 4: Teotihuacán, Acolman & Basilica De Guadalupe (B)
Optional / not included in package price: we recommend to consider a very early drive out to Teotihuacán for a hot balloon ride over the valley of Teotihuacán – with good luck in climate, this ride will also allow to have a great view on the prehispanic temple site! Breakfast in hotel. (in case of taking the earlier balloon ride – see above – have a seated breakfast not in hotel in Mexico City, but in Teotihuacán in a local restaurant there in adjacent location ot Teotihuacán arch. site) Morning drive out of Mexico City in the northern direction. Almost endlessly, the city stretches more and more…. finally get into more rural sceneries and arrive in Teotihuacán, where you will have a visit walk in the archaeological site (UWH), which remains from a prehispanic culture even earlier to the Aztecs. When the Aztecs arrived in the central valleys of Mexico to settle here, Teotihuacán already was abandoned. Nevertheless, the pyramidal ruins where so impressive that the Aztecs gave the name of Teotihuacán to the place, which means something like "City of Gods" or "Place created by Gods" in indigenous Nahuatl language. During the visit, see so emblematic ruin parts like so called Citadel, Quetzalcóatl Temple, Road of the Dead, Pyramids of Sun and Moon and Quetzalpapálotl Palace, among others. On route back to Mexico City, start to learn about how the Spanish conquerors slowly introduced Christianism in their colony. In Acolman town, visit the exconvent (closed on Mondays), whose architecture is somewhere in between a fortress, church and convent. Visit then also the Sanctuary of Virgin of Guadalupe, where it is supposed, that on Tepeyac hill Virgin Mary appeared to young shepherd boy Juan Diego in the early 16th century. Evening return to your hotel.
Day 5: Hotel Check-Out (B)
Breakfast in a hotel. Latest check-out from hotel at noon. Optional / not included in package price: From Mexico City you can easily realize practically all kinds of imaginable journey through Mexico, get to nearby Pacific Coast via Taxco Silver town and enjoy beach nights in Acapulco or Ixtapa-Zihuatanejo, or start a journey towards southeast Mexico, visiting states of Oaxaca, Chiapas, Campeche and/or Yucatán to end up in Mexico's Caribbean Coast. Also, the colonial region of Mexico is just north of all of this program. An ending of your stay in Mexico in some beach destination can be by immediate land connection from your last circuit destination or also with some domestic flight from most inland airports in Mexico.
The prices include:
-Accommodation in mentioned hotels and room categories over indicated numbers of nights Meals as indicated by abbreviations in daily title brackets and as per program description -Private ground transport in a/c CAR with english speaking driver-guide for all tfr, excursions, visits of program -Fees for entrance and visits as necessary to realize the visits and excursions as mentioned in programs -Private cooking class & boat ride in Xochimilco Space in ground service vehicle (if used) to store 1 suitcase pPax in trunk or sim. +1 hand luggage (small light bag) -Applicable tax for services included as enlisted/shown here above
The price does not include:
-Flights, air-and airport taxes -Tips to drivers, guides -Beverages -Storage in ground service vehicle for more than the allowed luggage indicated as included here above -Personal expenses
Mexico - The Grand Capital 2023