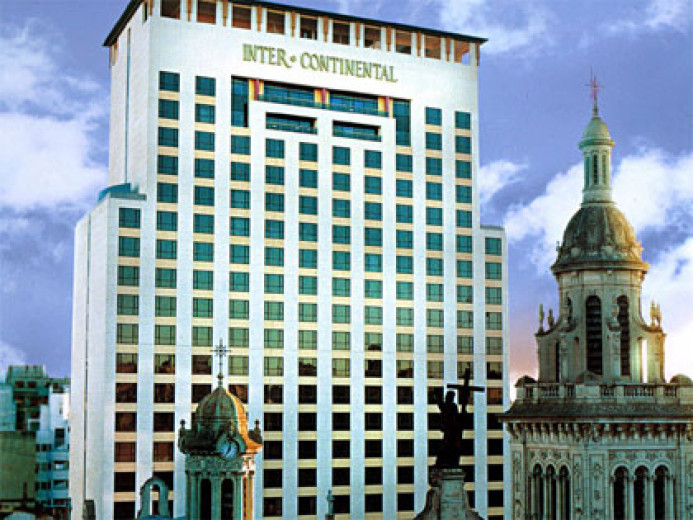 This beautiful 4 - star modern classic hotel is located in historic Montserrat. Wood, leather and marble dominate the lavish interior, beginning with a tastefully elegant lobby. Color and decor are subtle throughout and combine with the best reproduction furnishings to provide a soothing, stylish contrast to the urban city outside.


Hotel Information
Аrea information
Located in historic Montserrat, 1 km from San Telmo Neighborhood, 0,5 km from Plaza de Mayo. Aeropuerto Aeroparque - 7 KM Tango Show La Ventana - 2 KM . Subway is located 2 blocks from hotel.
Food and Restaurants
Light lunch, afternoon snacks or casual dinner are served in Mediterraneo Restaurant and in Terraza Del Virrey Grill - restaurant. The winter garden has both enclosed and open air dining areas, so you can enjoy outdoors all year long. The Lobby bar is a comfortable spot to enjoy your late morning coffee or end-of-the-day drinks. Cafe de Las Luces serves a wide variety of coffees, cocktails and wines.
Hotel Facilities
Activities
Sauna Fitness Centre Spa & Wellness Centre Massage Indoor Swimming Pool
General
Restaurant
Internet
High Speed Internet Access Wi - Fi
Services
Airport transfer Room Service Wake-up calls Meeting/Banquet Facilities Business Centre Fax/Photocopying Dry Cleaning Ironing Service VIP Room Facilities Bridal Suite Currency Exchange Shoe Shine Reservation/Ticket Service
Hotel Policies
Check in
16:00
Check out
12:00
Intercontinetal
PayPal
You can pay by simply choosing PayPal at checkout
Do you have questions?
Call us right now to get your questions answered.
Hotel
Booking Code:

Intercontinental Buenos Aires

Availability:

Available for Booking
Low Season
Breakfast included
Possible booking
from
2014-01-03
to
2014-02-28
Please select your booking dates:
Nr. rooms
Price
Room Category
Title
Description
$222.50
sgl - SGL room
Deluxe
$222.50
dbl - DBL room
Deluxe
$298.75
tpl - TPL room
Deluxe
High Season
Breakfast included
Possible booking
from
2013-12-30
to
2014-01-02
Please select your booking dates:
Nr. rooms
Price
Room Category
Title
Description
$308.75
sgl - SGL room
Deluxe
$308.75
dbl - DBL room
Deluxe
$298.75
tpl - TPL room
Deluxe
Low Season
Breakfast included
Possible booking
from
2013-12-01
to
2013-12-29
Please select your booking dates:
Nr. rooms
Price
Room Category
Title
Description
$222.50
sgl - SGL room
Deluxe
$222.50
dbl - DBL room
Deluxe
$298.75
tpl - TPL room
Deluxe
High Season
Breakfast included
Possible booking
from
2013-10-01
to
2013-11-30
Please select your booking dates:
Nr. rooms
Price
Room Category
Title
Description
$280.00
sgl - SGL room
Deluxe
$280.00
dbl - DBL room
Deluxe
$357.50
tpl - TPL room
Deluxe
Low Season
Breakfast included
Possible booking
from
2013-04-01
to
2013-09-30
Please select your booking dates:
Nr. rooms
Price
Room Category
Title
Description
$222.50
sgl - SGL room
Deluxe
$222.50
dbl - DBL room
Deluxe
$298.75
tpl - TPL room
Deluxe