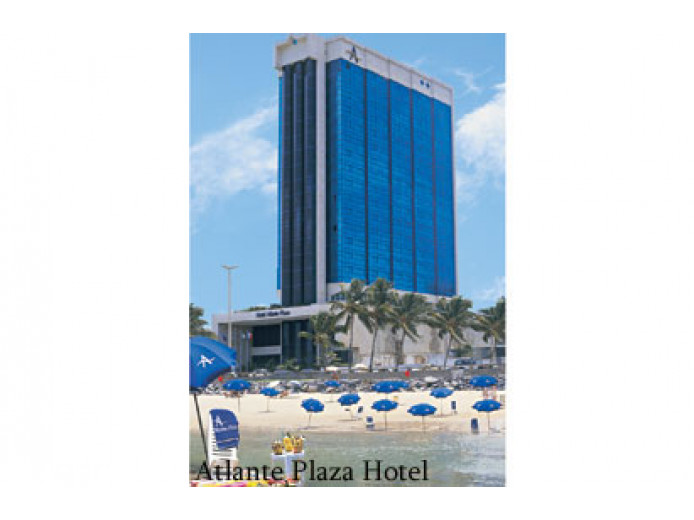 Located on the happening avenue of the capital of Pernambuco, Boa Viagem Avenue, Atlante Plaza Hotel has a privileged view. The hotel's three panoramic elevators, right on the façade, leave the tourists in awe of the photography of the coast. Right by the ocean, the hotel has 241 comfortable apartments with special services such as voice mail, cable TV, individual safes and automatic alarm clocks for guests. The executive apartments have facilities for computers and work desks with a special design.

Guests also have other options such as apartments with granite floors, non-smoking floors and special apartments for people with locomotion difficulties. The great novelty is a whole new floor with super special apartments, the First Class Floor, for guest who require maximum privacy and comfort.

As to events, Atlante Plaza has seven fully equipped and last generation rooms with module options. Perfect for meetings, banquets, seminars, fairs and congresses, with a capacity for events with up to 1,000 people. In order to provide more comfort for its guests, Atlante Plaza offers the Hospitality Service, a 24 hour client assistance central. Unlike what happens in most hotels, the guest doesn't need to inquire about the extensions for the reception, laundry services, restaurant etc. All one has to do is dial only one extension (central) and the employees will take care of all the rest.

The guest has at his/her disposal two restaurants and two bars. The Mirage has a refined and glamorous environment, with 68 places and an international menu with a regional touch signed by chef Cláudia Freire. The Brasserie has a buffet with various options as well as a complete a la carte menu, and a capacity of 126 places. The comfortable piano bar Night & Day, located at the lobby, has good music and special drinks. The bar Cortina D'água, located inside the waterfall of the main swimming pool, is responsible for serving the hotel's aquatic leisure area.

Also at the lobby, the guest will find a travel agency, a flower shop, a convenience store, jewelry store, a reading room and a business center equipped with computer, internet, TV, vcr, fax and a space for small meetings. Apart from that, all social areas of the hotel have wireless internet access, Wi-Fi, available for those who have laptops with wireless internet access. This was a pioneer initiative in the Northeast.

Other available options are a warm water swimming pool, a new gym, sauna, a room for resting and a games room with services included in the daily rates. The hotel also has a massage room and a beauty parlor. Atlante was classified by the Brazilian Association of the Hotel Industry (ABIH) and by Embratur, as the 5 star Superior Luxury Hotel of Pernambuco.
HOTEL ATLANTE PLAZA