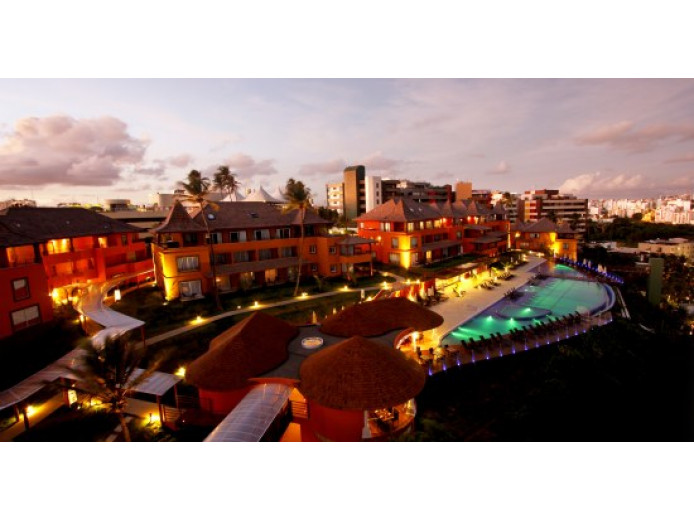 The Pestana Bahia Lodge is the ultimate word in what's new and modern in Salvador, complete with a breathtaking panoramic view. Annexed to the traditional Pestana Bahia, in Rio Vermelho, the new hotel is an "all suites" facility that offers exclusive services and total comfort and well-being to help you enjoy the capital city of Bahia in grand style besides offering all the conveniences of the Pestana Bahia.

Salvador is synonymous to cultural diversity, folklore, joyful times and sunny beaches. The city is also a stage for world-class congresses, events and corporate meetings. Whether you are looking for the best in business or pleasure facilities, the Pestana Bahia Lodge is always prepared to receive you with all the charm and luxury that Bahia has to offer. Get ready for a unique and memorable experience.

An urban resort in Salvador!
Hotel Information
Аrea information
The Pestana Bahia Lodge is the ultimate word in what's new and modern in Salvador.
Food and Restaurants
Lounge Bar Specialized in Portuguese cuisine, the bar is open for breakfast. The lounge bar will serve lunch and dinner offering an exclusive menu created by renowned Chef Alexandre Vicki. • Breakfast | is served from 06h00 to 10h30 (Monday thru Friday) and from 06h00 to 11h00 (Saturday, Sunday and holidays). • Bar Lounge | open from 09h00 to 19h00. Services available at the Pestana Bahia Hotel Cais da Ribeira Restaurant Specializing in Portuguese cuisine, the restaurant is ready to serve you breakfast, lunch and dinner. The sophisticated menu offers dishes created and prepared by Chef Ananias. • Breakfast | is served from 06h00 to 10h30 (Monday thru Friday) and from 06h00 to 11h00 (Saturday, Sunday and holidays). • Lunch | is served from 12h00 to 15h00 (Monday thru Friday) and from 12h30 to 16h00 (Saturday, Sunday and holidays). • Dinner | is served from 19h00 to 23h30 everyday. Lounge A Catarineta Located on the 23rd floor with a breathtaking "widescreen" view. • Breakfast | (Executive Program) is served from 06h30 to 10h00 (Monday thru Friday) and from 06h00 to 11h00 (Saturday, Sunday and holidays). • Lunch | is served from 12h00 to 15h00 • Dinner | is served from 19h00 to 23h30 everyday. The dinner menu includes the best of Portuguese and Bahia cuisine. Oceânico Bar Located at the pool, services include tropical fruit juices, sandwiches and tasty cocktails from 10h00 to 19h00. Lobby Bar A Brasileira Conveniently located off the Hotel Lobby, this is the right place for your daily happy hour, open from 10h00 to midnight. See our fine menu of gourmet cigars.
Rating information
271-529
Hotel Facilities
Activities
Sauna Fitness Centre Spa & Wellness Centre Outdoor Swimming Pool
General
Restaurant Bar 24-Hour Front Desk Safety Deposit Box Cable/Satellite TV Air-conditioning
Internet
Wi-fi and Wide-band
Guest Parking
Available
Services
Room Service Business Centre Reservation/Ticket Service
Hotel Policies
Check in
14:00
Check out
12:00
Pestana Bahia Lodge