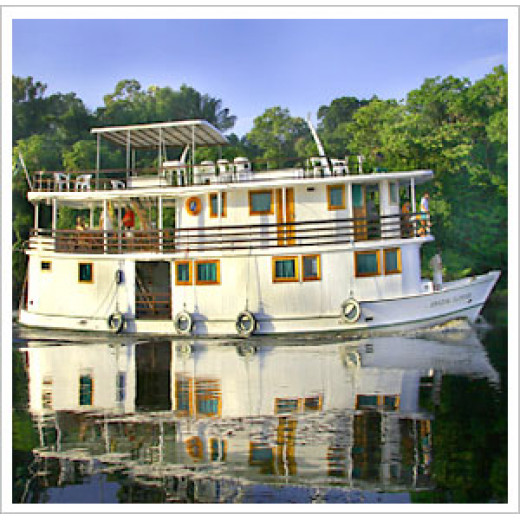 Experience the amazing Amazon in a 3 day boat cruise.

Included: welcolme drink, all meals, accommodation in double cabins with bunk berths and excursions as described in the itinerary, bilingual guide.

If you don't have a travel companion, we will try to find a companionable roommate.

What to bring: light weight pants, T-shirts, long sleeved shirts, shorts, bathing suit, extra socks and underwear, sandals, good walking and/or old tennis shoes, windbreaker, sun hat, flash light, non-electric razor, sun screen, insect repellent, binoculars, camera, film, extra batteries, small first aid kit.
AMAZON CLIPPER PREMIUM (Hotel Ship)' - $1974 / DBL

AMAZON CLIPPER TRADITIONAL (Hotel Ship) -$1412 /DBL
Day 1
Monday - Depart Hotel Tropical landing-stage at 14:30 hrs. Presentation on board of staff, route and facilities. Navigation to the "Meeting of the Waters". Observation. Navigation in the Xiborena and Careiro region to Curari. Canoe trip in smaller creeks to see life on the flood plains: jute, market-garden produce, rubber trees, as well as flood plain forest and lakes with giant water lilies (in season). This trip returns after sunset, so that we can observe night life, including caimans. Navigation up the Amazon (the upper part of it called Solimőes by the natives) to Lake Janauaca. Dinner on the way.
Day 2
Tuesday - Early morning canoe trip for bird-watching. There are good chances of seeing Hoatzins and large flocks of Egrets and Cormorants. Breakfast. Walk in the forest with commentaries by the specialist. Visit to the inhabitants of the lake who live from manioc plantations, fishing, diverse fruit trees, rubber, Brazil-nut trees, wood and other extractive products. Lunch. Navigation. Fishing for piranhas and other types of fish. Dinner. Night trip to see nocturnal animals, sometimes including night-hawks, snakes, toro-rats, sloth and frogs. Navigation downstream on the Amazon.
Day 3
Wednesday - Early morning bird-watching trip in the Janauary Ecological Park and nearby waterways. Breakfast. Navigation past Manaus port, with views of the floating docks, market, old custom house and houses on stilts, to the Hotel Tropical landing-stage arriving at 11:30 am. End of services.
Amazon Clipper Cruise