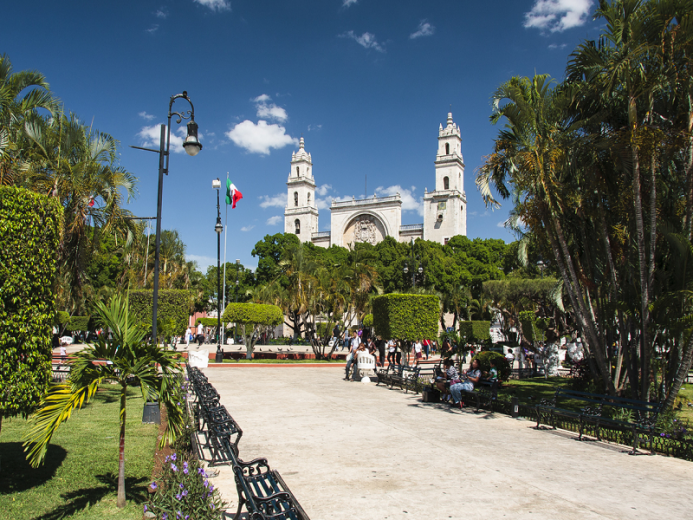 Private Services / Prices per Pax / on base of minimum number of 4 participants / Valid from Apr. 16th till Apr. 27th, 2023
Program with category Standard with / in mentioned hotel category or similar: Min. number of Pax 4 USD per Pax in DBL $3999
Program with category Deluxe with / in mentioned hotel category or similar: Min. number of Pax 4 USD per Pax in DBL $ 4910
Day 1: Arrival in Cancun
Welcome at airport Cancun and transfer to your hotel (earliest possible check-in in hotel: 15:00h). Rest of day at leisure. Standard: Beachscape Kin Ha www.beachscape.com.mx 01 Night / Std. Resort View Deluxe: Presidente Int. Cancun www.presidenteiccancun.com 01 Night / Classic Resort View
Day 2: Cancun – Ek Balam – X'Canche – Valladolid
(B) Breakfast. Today we will visit the archaeological site of Ek Balam, impressive archaeological site is very unique. It´s a walled city with 45 structures, an urban core and stelae. We will be able to climb the pyramid and admire the masks on the elaborate doorway on the top, continuing drive to reach the cenote X'Canche where you can swim. Finally, continue to the hotel in Valladolid. Standard: Mesón del Marques www.mesondelmarques.com 01 Night / Std. Room Deluxe: Posada San Juan www.posadasanjuan.com 01 Night / Classic Room
Day 3: Valladolid – Chichen Itza – Izamal – Merida
Breakfast. You will enjoy a visit to the archaeological site of Chichen Itza, located 120km east of Merida. One of the New Seven Wonders of the World, Chichen Itza is the best restored of Yucatan's Mayan sites. While here we will explore, the magnificent ruins set in a dense jungle, including: - Pyramid of Kukulcan, its height and striking geometric design the most prominent of this site. - The Great Ball Court, the largest and most impressive in Mesoamerica. - The Sacred Cenote, a natural well used for human sacrifice. We'll also see many other beautiful temples. Finally, you will visit Izamal Magical Town, all painted in golden yellow, to see there the great exconvent of San Antonio de Padua, the town urban ensemble and the remains of Izamal's origins with some prehispanic ruins right in the center. Continue to the hotel in Merida City. Standard: Casa Italia www.casaitaliayucatan.com 02 Nights / Jr. Suite Deluxe: Casa Lecanda www.casalecanda.com 02 Nights / Patio Room
Day 4: Merida– Celestun – City tour
Breakfast. Today we will go to Celestun where you will have a boat trip the Biosphere Reserve Ria Celestun, is the primary site of pink flamingos wintering in the northern hemisphere. In addition, it is home to over 300 species of birds and a variety of plants, reptiles and mammals. This tour allows you to admire a large number of birds, including colonies of beautiful pink flamingos. You will enjoy a boat ride through the mangroves. Enjoy a half day visit tour through Merida, the so called "White City" and capital of the state of Yucatán with its main attractions in the historical center, like main and Hidalgo square, cathedral, Governor's Palace, Montejo House and Boulevard, as well as the local market hall.
Day 5: Merida – Uxmal – Kabah – Campeche
Breakfast. We will visit the archaeological site of Uxmal, a World Heritage Site, located 80km south of Merida. Its architecture is characterized by low, horizontal palaces set around courtyards, decorated with a profusion of symbolic motifs and sculptures depicting the long-nosed rain god Chaac. We will explore the magnificent buildings, including the Nunnery, the House of Turtles, and the House of the Magician, which dominates the site. We'll continue to Kabah, with its amazing Palace of the Masks, covered in nearly three hundred masks of Chaac. Continue to the hotel in Campeche. Standard: Plaza Campeche www.hotelplazacampeche.com 01 Night / Std. Room Deluxe: Casa Don Gustavo www.casadongustavo.com 01 Night / Std. Suite w/1 bed
Day 6: Campeche– Chicanna – Calakmul
(B/D) Breakfast. After the breakfast, we will visit Chicanná, which due to its location must have participated in the commercial route that crossed the peninsula from the Gulf of Mexico to the southern coast. The site was located in 1969, in the Río Bec style, it is distinguished by the elegance and decorative richness of its buildings, which is why some researchers consider it an elitist center. Then, continue to the hotel in the jungle. Standard: Puerta Calakmul www.puertacalakmul.com 01 Night / Cabin Suite Deluxe: The Explorean Kohunlich www.explorean.com 01 Night / Bungalow
Day 7: Calakmul – Bacalar
Breakfast. In the morning we will depart to one of the most fascinating archaeological sites in Mexico called Calakmul. In 2014 Calakmul was declared Mixed Heritage of Humanity by UNESCO, which recognizes in this place a unique and unrepeatable value in the relationship that occurred between the Mayan culture and the jungle (or local landscape). This recognized heritage covers an area of about 300,000 hectares, and includes about 350 archaeological sites, most of them not yet open to the public. Walk the paths of the ancient Mayan city of Calakmul, one of the main capitals of the Mayan world and one of the greatest archaeological discoveries of the last century. Discover the surrounding jungle's exuberant wildlife, where you may see animals such as monkeys, toucans, ocellated turkeys, deer and possibly jaguars and pumas if you are lucky. Continue to the hotel in Bacalar. Standard: Rancho Encantado www.encantado.com 02 Nights / Casita Garden A/C Deluxe: Rancho Encantado www.encantado.com 02 Nights / Casita Lagoon
Day 8: Bacalar – Bacalar Lagoon– Cenote Azul
(B) Breakfast. Today we will visit Laguna Bacalar or Lagoon of Seven colours. It's is a huge expanse of shallow water, with very soft white sand. Shows a slight wave of faint blue tones where the composition of the crystals, simply generates a fascinating spectacle. Then, we will have the opportunity to visit the cenote Azul in route where we can refresh ourselves.
Day 9: Bacalar – Tulum ARCHAEOLOGICAL Site – Tulum
(B) Breakfast. Morning visits the archaeological site of Tulum, they are small but impressive, located above a small cliff 15 meters limiting the turquoise blue waters of the Caribbean Sea. The ruins of Tulum have one of the most beautiful beaches of the Riviera Maya. The greatest attraction of Tulum is the combination of the imposing ruins with the amazing tonalities of the Caribbean Sea. Tulum in Mayan means "wall" because it is a walled city, one of the very few ancient cities with this characteristic. Standard: Hip Hotel www.hiphoteltulum.com 02 Nights / Garden View w/1 Bed Deluxe: Ana & Jose www.anayjose.com 02 Nights / Garden View w/1 Bed 10 Apr. 25th , TULUM (B) Breakfast. Day at leisure to enjoy the beach. 11 Apr. 26th, TULUM – CENOTES – PLAYA DEL CARMEN (B) Breakfast. Today we will depart to Playa del Carmen but in route we will make 2 stops to visit the Gran Cenote where you will be immersed in crystal clear waters and get to know these marvelous formations of underground water and our next stop will be Casa Tortuga Park where you can enjoy the visit of 2 caves and 2 cenotes. (Extra activities are not included). Standard: Mahekal www.mahekalplaya.com 01 Night / Garden View Deluxe: Grand Hyatt PDC www.grandhyattplayadelcarmen.com 01 Night / Resort View
Day 10: Playa Del Carmen – Cancun Airport
Breakfast. At convenient time, you will be transferred to Cancun airport. Good Trip!!
The price includes:
-Accommodation in mentioned or similar hotel of 4 or 5 **** standard and over indicated nights in STD rooms / incl. applicable taxes -11 nights in hotels indicated or similar -Private excursions and transfers -Meals as per indications / incl. applicable taxes & service charge, daily breakfast (American or buffet AB – BB). -Entrance fees and boat rides as per itinerary - Local services, transfers and day excursions in private with English /Spanish speaking guide or driver guide. -Space in ground service vehicle (if used) to store 1 suitcase p Pax in trunk or sim. +1 handluggage (small&light bag).
The price does not include:
-Tips to porters at airport, bellboys and chambermaids at hotels. -Air fare, air and airport taxes, Mexico Tourist tax (Intl. departure tax), - Tips to driver & guide (general suggestion USD 1.00 per day per pax for driver, usd 2.00 per day per pax for guide) -Beverages (except coffee or tea and juice during breakfasts) -Personal expenses like phone calls, laundry service for clothes, hotel room mini-bar, souvenirs and similar -All other service not indicated explicitly as included in "the prices include" Mexico Tourist Tax (Intl' Departure Tax)* Federal state of Quintana Roo tourist tax* Sanitary Tax applicable in hotels in federal state of Quintana Roo*
Yucatan at its best 2023