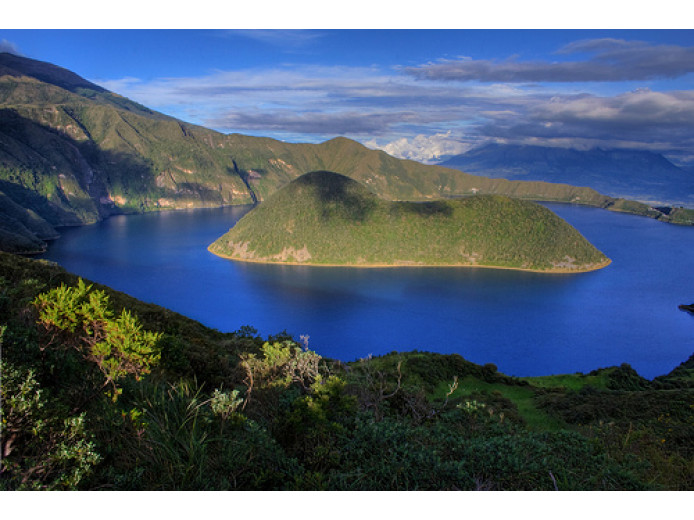 Quito-Imbabura-Napo-Quito
7 days/ 6 nights
Day 1. Quito (International Arrival)
Upon arrival to Quito's Mariscal Sucre Airport, you will be greeted by our helpful guide. The guide will serve as a translator, help with luggage, and assist with the car transfer to your hotel. Hotel accommodations: Illa Hotel Quito or similar. B/-/-
Day 2. Legend Route in Quito "Traditional Artisans"
After enjoying an early breakfast, the tour will depart from your hotel to join the group in the main square; the tour offers a different way to see the city, its neighborhoods and its people in their daily routines and activities. Community hosts, artisans, and legendary characters will help you discover the secrets of a lively area called San Roque, where flavors, commerce, games and traditions are combined together to makes this legend route unforgettable. Afternoon at leisure. Hotel accommodations: Illa Hotel Quito. B/-/-
Day 3. Arasha Tsachila cleansing
After breakfast, the tour will continue to the Northwest towards Pedro Vicente Maldonado, our destination Arasha spa and Resort, it is a place full of splendor and magical to recharge energy and feel the tranquility that you need. Here you will go to renew the energy through "Tsachila" local shamans. They used to treat plant extracts and forest fruits combining with the mysticism of the magic place. Hotel accommodations: Arasha Spa & Resort. B/L/D
Day 4, Discovering meaning in the Andes
Enjoy breakfast before we depart Arasha early in the morning for this tour. On arrival you have time to relax at the hotel after your journey, depending your time yo can hike a little bit around Sacha Ji grounds . Dinner will be served at the hotel.
OPTIONAL ACTIVITY IN SACHA JI
Kundalini Yoga Class With advance notice it is possible to arrange 1 hour and 15 minutes for Kundalini class it is a physical, mental and spiritual discipline based on Yoga, it activates different parts of the body and the brain makes emphasis on the nervous and endocrine system mainly. PLEASE NOTE: The kundalini class is included on the itinerary but have to decide the schedule, at your arrival or the next day. Hotel accommodations: Sacha Ji. B/-/D
Day 5. Sacha Ji program
Enjoy a healthy breakfast. Your first stop will be at the Otavalo indigenous Market. Nestled between the magnificent volcanoes Taita (Father) Imbabura and Mama (Mother) Cotacachi lies the beautiful valley of Otavalo, its native Kichwa people has developed one of the biggest handicraft markets in America where great masters in weaving and craftsmanship show their products; this is also one of the most prosperous indigenous areas in the continent. The smells, the colors and the kindness of its people attract a great amount of visitors from all over the world; Otavalo has great natural and cultural attractions, historical haciendas, ancient traditions and breathtaking landscapes. After this, you can hike to the Sacred Peguche Waterfall, a beautiful place perfect for relaxation & meditation. Visit the homes of indigenous artisans and musicians that base their lives on traditional crafts. Visit a historic hacienda and horseback ride or meditate on sacred indigenous sites with a professional private instructor. Lunch will be served at a Historic Hacienda. In the afternoon, you can choose between an andean cleansing or andean massage. Hotel accommodations: Sacha Ji. B/L/D
Day 6. Termas Papallacta
We enjoy a healthy breakfast. We will drive to take the Panamerican highway towards to the Eastern Cordillera, where we will go over a 4065 m. high mountain pass. It can be foggy up here but when the weather is clear we will be amazed by the magnificent views of the Antisana volcano and the surrounding paramo wetlands. Within three hours we will reach Termas de Papallacta, Ecuador's most beautiful thermal hot springs Resort and Spa, located in between spectacular mountain forests of the Eastern Andes slopes. We will enjoy a very nice morning hike through the surrounding mountain forests and grassy paramo near our resort. This ecological reserve is managed by a local foundation and harbors many peculiar species of flora and fauna (more than 160 bird species, mountain tapirs, spectacled bears and many other species).
OPTIONAL ACTIVITIES IN TERMAS PAPALLACTA
HIDROTERAPHIES OR TREATMENTS ON THE TERMAL CLUB In the afternoon we have free time to dip into the amazing hot springs or enjoy some of the optional health and beauty treatments in Termas de Papallacta. The spa and hydrotherapy area offers a variety of different sensations from streams of water, water hydro massage or hydro massage with air bubbles. It has been certified that the thermal waters of Termas de Papallacta have medicinal properties that guarantee healthy benefits! PLEASE NOTE: Treatments and hydrotherapies should be prior reservation, please ask for information at the hotel reception directly. Hotel accommodations: Termas de Papallacta B/-/-
Day 7. Quito.
Homeward bound Today after breakfast you will be met by your guide and taken to Quito Airport in time for your international flight back home.
INCLUDED:
- English speaking guide + private transportation - Tour , treatments and airport transfers as listed on the program - Hotel accommodations as listed on the program subject to availability - Meals as listed B: breakfast. L: lunch and D: dinner.
NOT INCLUDED:
- Personal expenses and tips - Alcoholic and soft drinks - Items not specified * Prices subject to change without prior notice
Ecuador 2022: Relaxing and New Energy Tour