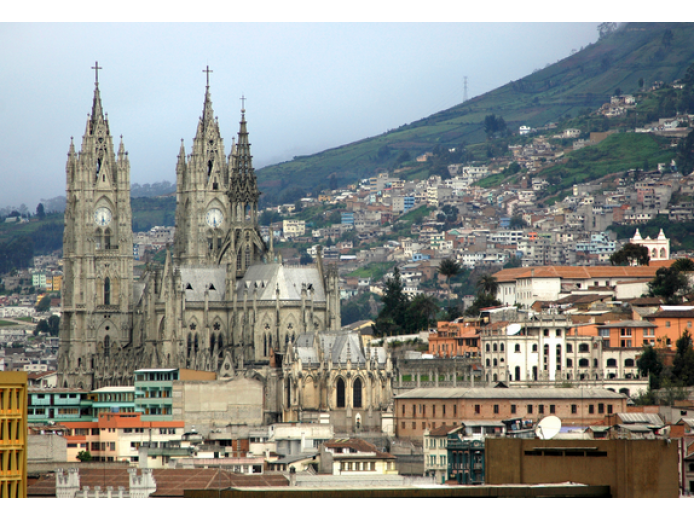 6 Days / 5 Nights
Quito -Galapagos
| | |
| --- | --- |
| Quito-Galapagos Islands | ½ DBL |
| Total per 1 pax in USD | 2802 |
Day 1: Quito
Arrival: Mariscal Sucre International Airport Transfer to the hotel. (1 hour)
Day 2: Quito
CITY TOUR Quito city tour is perfect for seeing fascinating panoramas, churches, domes and roofs that have an important historical value. You will admire and learn about colonial art, architecture, culture, legends, and traditions. Quito, the capital of Ecuador, was founded in the 16th century on the ruins of an Inca city and stands at an altitude of 9.350 feet. Despite the 1917 earthquake, the city has the best-preserved, least altered historic Center in Latin America. The architecture and rich interiors, are pure examples of Quito School of sculpture, which is a fusion of Spanish, Italian, Moorish, Flemish and indigenous art. After four incredible hours exploring the Old Town, you'll understand why Quito was the world's first city named to UNESCO's Cultural Heritage list. At the afternoon, you will visit: "Cuidad Mitad Del Mundo" and Intiñan Museum 1.) "Ciudad Mitad del Mundo" "Ciudad Mitad del Mundo" is the touristic, cultural, scientific and commercial smallest city of Ecuador. Its architecture is based on colonial style. An obelisk and a museum relevant to its geographical location were built at the Middle of the World site. All of this is found among the drastic landscape surrounded by nature and modern buildings. The monument is crowned by a metallic sphere that represents the Earth. It is named Equatorial Monument and it geographical orientation coincides with the four cardinal points and is located precisely at Earth's midpoint — 0 degrees latitude, 0 minutes, 0 seconds. 2.) Intiñan Museum Since the year 1960, the Intiñan Museum in Quito has been a center for the promotion of the many aspects of Ecuador's culture. This museum offers interactive exhibits on how the Incas determined the middle of the earth, plus interesting science experiments such as balancing an egg on a nail. Transfer to Papallacta, 2-hour ride. Rest on thermal springs.
Day 3: Quito – Galapagos
Breakfast: at hotel Transfer to the airport - flight to the Galapagos Islands. When you land in Baltra a guide will be waiting for you. You will arrive at Santa Cruz Island crossing the Itabaca Channel, it is a waterway that connects two islands,(Baltra and Santa Cruz), in 10 minutes. Then we continue to Highlands of Santa Cruz. Here you may observe the famous Giant Tortoises in their natural environment, which also known as Galapagos, and from where the name of the Islands derive. Also catch sight of the famous Galapagos Finches, Bird Wizards, as well as endemic vegetation such as Escelacias forests and Matazarnos. Charles Darwin Scientific Station visit. Later you will have free time to explore the town of Puerto Ayora, where you can several souvenir shops. Breakfast/Lunch
Day 4: Galapagos
Breakfast: at hotel The bay tour, also known in Spanish as "Tour de Bahía", is a must in the Galápagos. This is tour combines snorkeling, hiking, learning about the islands and relaxing. We specialize in the Santa Cruz Island Bay Tour. On board you can explore several spots of Santa Cruz Island in a period of 4 hours. During the tour you are accompanied by a Naturalist Guide that will explain the secrets of the Galápagos flora and fauna. We take you to fascinating spots like the "Lobería" and "Las Grietas" where you will snorkel, hike, and learn about the Islands. The Bay Tour on board the Aqua View include: Visits to Las Grietas /La Loberia /Punta Estrada /Playa de los dogs / Shark channel/ SnackS Snorkel and mask. Fins (Only under request) Life vests Towel service In the afternoon visit Tortuga bay beach.
Day 5: Galapagos
Breakfast: at hotel We begin the tour at 06H45 AM at the port of Puerto Ayora to board the speedboat that will take us to Isabela in 2.5 hours. (Transfer in speedboat has a duration of 2 hours approximately until arrive to Isabela) We start the activity at 09:00 from Isabela Island, from the bay we go by means of a boat to a group of islets called Tintoreras. Well known for being the habitat of penguins and white tip sharks! Other animals that we can observe while we surround the islets are: rays, sea turtles, bay sharks, colorful fish, etc. We also make a landing on one of the islets and through a short walk, observe the Tintorera sharks. Along a channel with fences on one of its edges, we can find a large number of individuals of the species. Likewise, we enjoyed a snorkeling time near the site. At the end of our activity in the complex, we headed to the port to enjoy lunch. Our next stop is the flamingo lagoon. We have time to take pictures. To finish, we headed to the Arnaldo Tupiza Breeding Center. We can see the turtles in the conservation area. We finish the tour at 14:00 p.m. then we have to come back to Puerto Ayora, Santa Cruz - 2 Hours on the speedboat. Breakfast/Lunch
Day 6: Galapagos Islands / Quito
Breakfast: at the hotel. Transfer to the airport for your flight to Quito or Guayaquil. Flight home. End of the Program
The Program includes:
 Accommodation in 4* hotels on program including breakfast  Private Tours according to the Program with English Speaking Guide  Shared transportation and tours in the Galapagos Islands  Private transfers airports/ hotels/ airports in private with driver only
The Program does not include:
 Optional excursions  Galapagos National Park Entrance Fee / USD 100 pp. Discount for children under 12 years – 50% (subject to change);  Ingala Transit Control Card / USD 20 pp (subject to change);  Isabela fee – 12USD pp  Meals & beverages not mentioned  International flights  Domestic flights ( from 450 USD per pax) ** This program availability and prices will be confirmed upon booking.
Ecuador with Galapagos 2022