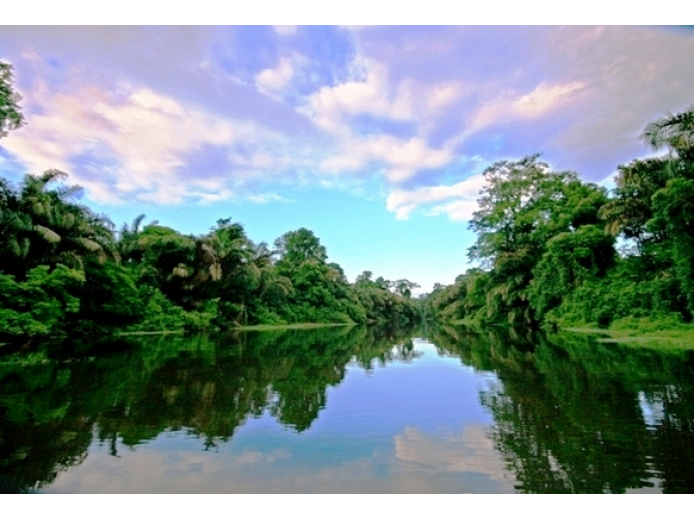 6 days/5 nights
Nature lovers rejoice! A perfect introduction to Costa Rica's natural wonders, focused on the varied and vibrant flora and fauna, and two crown jewels on our paradise: Arenal and Tortuguero National Park.
The program is valid from 2 people on any day of departure except Christmas, Easter and New Year Season
The price of the program for 1pax in $ USD:
Day 1. San Jose
Arrival at Juan Santamaría International Airport. You will be met at the airport in order to transfer you to the Hotel. Overnight at Hotel Palma Real.
Day 2. San José/ Tortuguero National Park
We begin our trip early in the morning between 6:00 am from San Jose. You will be traveling with a bilingual naturalist guide on an air conditioned bus. Drive through Braulio Carrillo National Park, where you have the opportunity to see beautiful views and abundant vegetation. On the way we will stop for breakfast at Selva Tropical Restaurant where you can enjoy a butterfly garden with a variety of tropical flowers. After breakfast we will continue our trip to Caño Blanco deck driving by banana plantations. At Caño Blanco, you will board the covered boat to the lodge, passing the Tortuguero canals arriving between 12:30 p.m. to 1:00 p.m. In the afternoon you will visit to the Turtle Museum of the C.C.C. (Caribbean Conservation Corporation) and to the colorful Tortuguero town. You will return to the lodge around 5:30 p.m. Free time to enjoy the pool, the bar service and prepare for your dinner. Dinner service from 7:30 p.m. to 9:00 p.m. and then rest of the night free to enjoy the surroundings, pool and bar. Overnight at Hotel. (Meals: B, L, D)
Day 3. Tortuguero National Park
6:15 am tour to admire the awakening of the wildlife of Tortuguero. Return for breakfast (service between 7:00 a.m. to 9:00 a.m.). Free time to enjoy the pool, the bar service and prepare for your dinner. Dinner service from 7:30 p.m. to 9:00 p.m. and then rest of the night free to enjoy the surroundings, pool and bar. (Meals: B, L, D)
Day 4. Tortuguero National Park /Arenal Volcano
Continue to the northern lowlands of Arenal Volcano and La Fortuna town. Relax in the best hot springs of the área. Overnight at Hotel Arenal Paraíso Resort & Spa. (Meals: B)
Day 5. Arenal Volcano
AM: The Arenal Hanging Bridges at Mistico Park is a beautiful, environmentally-friendly nature project located near the Arenal Volcano for walking tours. This is considered one of the best nature walks in La Fortuna, Costa Rica. There are trails and bridges that bring you as close as you could ever hope to get to the birds, flowers, and the lush vegetation of this primary rainforest. This is the perfect tour for nature enthusiasts visiting Costa Rica! The trails are designed for all ability levels and cover a total of about 2 miles. Once you are on walking along, you will be able to admire the great diversity of flora and fauna typically found in the tropical rain forest and also have the opportunity to see many different birds and plant species for approx 2.5 hrs. Walk right into the forest along several stretches of hanging bridges overlooking the tree canopy along easy, safe and beautiful trails with views of the Arenal Volcano. Appreciate the wildlife as you cross the 15 different bridges, 6 of them are the ones hanging. PM: The Arenal Volcano 1968 Park and other reserves along the border of the National Park are one of the most visited places in all of Central America. The trails in Arenal Volcano1968 Park and other nearby Arenal Reserves are generally not very strenuous -- perfect for a leisurely and informative hike with one of our professional nature guides. This part of the Arenal Volcano had sections that were devastated by the lava flow of 1968, so some areas have very little vegetation. This guided walk of the1968 Trail provides perfect photo opportunities and magnificent views of the impressive Arenal Volcano, the pristine Lake Arenal and the extinct volcano Cerro Chato. We have chosen the appropriate trail for better wildlife viewing. There are parts of each trail that has forested areas where your nature guide will try to spot birds, monkeys and other animals in their natural habitat. Overnight at Hotel Arenal Paraíso Resort & Spa. (Meals: B)
Day 6. San José
Transfer back to Juan Santamaria International Airport (Meals: B)
The program includes:
-Transportation -Accommodation and local taxes -Entrance fees -Guided Tours according to the program (English Speaking Guide) -Meals according to the program: B- breakfast, L- lunch, D- dinner
The program does not include:
-Optional Activities -Tortuguero National Park Entrance Fee ($17 per person) -Arrival and Departure Taxes -Extras in hotels (laundry, phone calls, room service, etc.)
Costa Rica 2023: Nature lovers