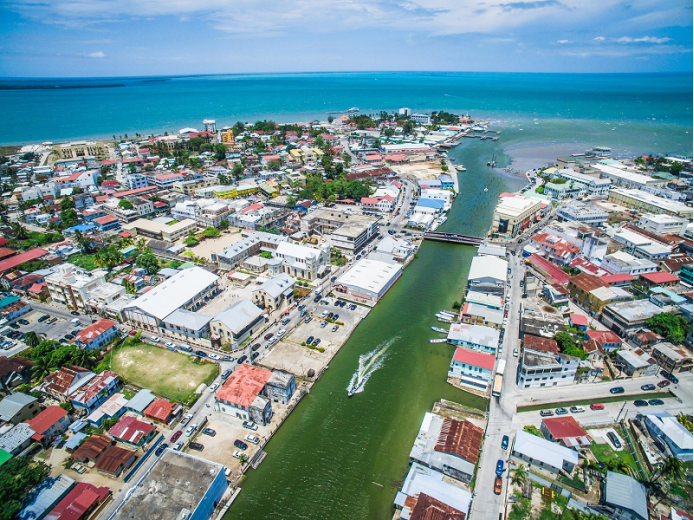 8 days/7 nights

From Cayo District into the Mayan Jungle, Caracol Mayan Temple and Rio Frio Cave
Barton Creek Cave and Xunantunich

Price per person:

4174U$/person in ½ Dbl






Day 1:
Arrival to Belize International Airport Private Minibus Transfer to Cayo District – Unguided Overnight at Blancaneaux Lodge Cayo District Located in the western section of the country and bordering Guatemala's department of El Petén, the Cayo District is a vast highland stretch of rainforests, ranches, and some of the country's most remote and rugged terrain. It's a region you head to not for beaches (there are none), but rather for Maya ruins, extensive cave systems, and the chance to explore the great outdoors on foot, by horse, or in a kayak, raft, or canoe. The country's capital, Belmopan, is located here, but the real hub of the district is San Ignacio, a small town with colonial-era streets and a funky medley of restaurants and shops. Some of Cayo's not-to-miss attractions include the Mountain Pine Ridge Forest Reserve, the Barton Creek cave, and the ancient Maya city of Caracol.
Day 2 : Caracol & Rio Frio Cave & Pools (Private/Guided/Full Day)
Pick up at your hotel and transfer into the Mountain Pine Ridge Reserve which is a 106,000 acre, protected national park. After the Mountain Pine Ridge we start to see that the mountain changes from Pine Forest to Tropical Rainforest and we enter the Chiquibul Forest Reserve. About 1 hour drive from the Pine Ridge we arrive at the beautiful Maya site of Caracol (which means the Snail), named by the archeologists because they found the lather of the snails on site. The original name is "Oxwitza'' which means the sky place. Caracol is the largest archeological site in Belize, covering 30 square miles of thick, high canopy jungle, and includes five plazas, an astronomical observatory and over 35,000 buildings that have been identified. The loftiest among them, a massive pyramid (Caana) capped by three temples and rises over 140 feet above the jungle floor. Guests enjoy a private guided tour of the site with entrances and picnic lunch included. We then return to the hotel and on the way back guests can choose to stop and explore the Rio-on Pools and Rio Frio Caves if they wish. Activity Includes: Private transfers & guide, picnic lunch, admission fees. Overnight at Blancaneaux Lodge
Day 3:Barton Creek Cave and Xunantunich
Xunantunichi, pronounced 'Shoo - Nan - Tu - Nich', gets its name from a legendary folktale about the ghost of a woman who as locals have it inhabited the sacred grounds as far back as the late 1800's. A classic period (300 – 900AD) ceremonial center located just a stone's throw away from San Ignacio in the beautiful Maya village of San Jose Succotz, making this one of the most accessible Maya Temples in the area. Xunantunich boasts Belize's second largest Maya structures named El Castillo (The Castle) standing 130 feet and offering an astonishing panoramic view of the Maya Mountains. Then we travel through the Cayo region on through the Mennonite Community of Upper Barton Creek river. The Barton Creek Cave Tour is a low intensity adventure trip which is great for couples and families, offering something for everyone. Equipped with canoes and high powered lights, guests gently paddle along the river into the cave system known as Xibalba (she-bal-ba), Maya for the underworld. Stalactites hang high overhead as you float past impressive calcite crystal formations. Knowledgeable guides discuss the relevance of the cave to the ancient Mayan people and the archaeological significance of this 7.5km limestone Cave system which was used for ceremonial purposes and as a burial site by the ancient Maya people. Guests are transferred back to their hotel when the tour concludes. Activity Includes: Private Transfers & Guide, Admission Fees, Canoes & Equipment. Not Included: Lunch Transfer to Belize city and watertaxi to Ambergris Caye Lodging at Coco Beach Resort
Day 4:Ambergris Caye
The largest of Belize's islands, Ambergris Caye runs parallel to the magnificent Belize Barrier Reef. Once home to the ancient Maya (they created the island by digging a channel between it and Mexico), Ambergris is located 56 kilometers (35 miles) northeast of Belize City and is accessible by boat or plane. It's a popular destination for diving, snorkeling, sailing, fishing, kayaking, and windsurfing; trips to nearby Caye Caulker and the mainland are easy to plan, too. Formerly a fishing village, San Pedro is the island's only town; its sandy streets are lined with waterfront restaurants, hotels, tiki bars, and dive shops. Visitors to Ambergris should note that in order to protect the caye's natural environment, Belizean law prohibits the removal of coastal sea grass. Properties do their best to clean up grass that washes up on shore, but it's not uncommon to find a bit of sea green next to your cold bottle of Belikin. Lodging at Coco Beach Resort
Day 5: Ambergris Caye
Today we invite you to a beautiful snorkelling tour around the amazing Ambergris Caye Swim with exotic fish or spot a turtle Lodging at Coco Beach Resort
Day 6: Blue Hole-
Today we have a flight over the famous Blue Hole-a divers dream (optional-not included 500 U$) Lodging at Coco Beach Resort
Day 7: Hol Chan & Shark Ray Alley Snorkel Tour (Collective/Half Day/Boat)
Today we invite you for a snorkelling tour with nursery sharks and stingrays. Although this might sound scary they are completely save to swim with. Hol Chan & Shark Ray Alley Snorkel Tour (Collective/Half Day/Boat) Hol Chan means Little Channel in Mayan and is a natural break on the barrier reef where ocean depth ranges from 3 to 30 feet. Here guests will enjoy seeing the breathtaking myriad of marine life and huge coral garden, among which are flourishing staghorn corals and sea fans. Shark Ray Alley is a shallow water snorkel where guests will enjoy swimming with the harmless nurse sharks and southern stingrays - this trip is a famous snorkel trip and a "must do'' for Belize. Activity Includes: Snorkel Equipment, transfers and a guide. Not Included: Lunch, $10 USD park fee per person which guests must pay locally, tips & gratuities Lodging at Coco Beach Resort
Day 8
Taxi transfer to San Pedro. Watertaxi to Belize city and transfer to the international airport
Included:
 Accommodation as mentioned, double occupancy  Tours and activities as mentioned  Transport as mentioned, in minibus  Domestic flights as mentioned  Local taxes
Not Included:
o Alcoholic beverages or additional beverages with meals o International flights o Airport taxes o Border fees o Tips and gratuities for drivers and guides o Personal expenses o Meals not indicated
Please note:
• Prices apply for whole 2022 except Easter, Thanksgiving, Christmas & New Year. For these periods it is necessary to "tailor make" itineraries due to the requested minimum nights in some of the hotels and the significant rise in price. • All prices are in US Dollars • Prices are subject to change at any time and without notice
Best of Belize 2022: Diversity