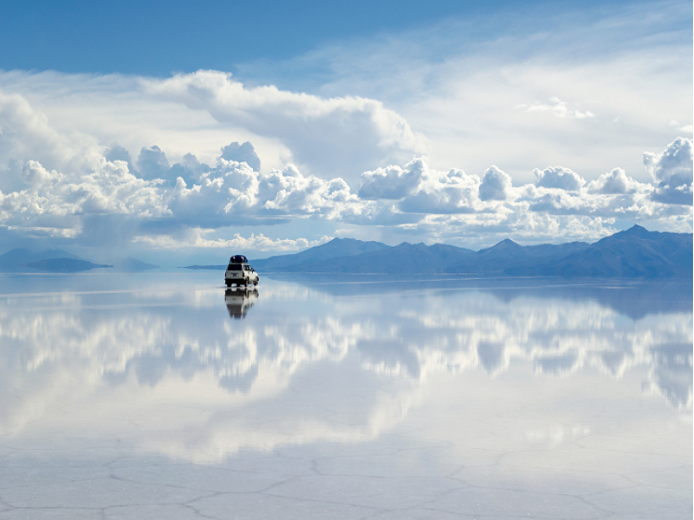 3 days/ 2 nights

* Starting at Hito Cajones and ending at Uyuni or San Pedro De Atacama
Regular group tours (sib) with Spanish driver-guide
*English guide is possible from 6 pax. Additional fee for 3 days 40 USD per person
330 USD per person ending in Uyuni.
385 USD per person ending in San Pedro de Atacama.
Day 1
We start the tour at 10:00 am. Bolivian time from the border HITO CAJONES, (our driver will be with a sign with the name of the clients written on it) - Green Lagoon, Salvador Dalí Rock, Hot springs, Geysers and fumaroles and finally the red lagoon where we will sleep the first night, at the Eduardo Avaroa National Reserve or in Polkes (Entrance to the Eduardo Avaroa national reserve 150 Bs. Per person not included)
Day 2
We leave the red or guayajara lagoon to visit the Stone Tree in the Si Loli desert. - Laguna Honda - Laguna Hedionda - Cañapa Lagoon (These three lagoons full of flamingos) - Ollague Volcano viewpoint - Puerto Chuvica, here we spend the second night in a hotel made entirely of salt called "LIPEZ".
Day 3
We get up at 05:30 am. To go see the sunrise at the salt flat, we practically go to the fish island to observe the sunrise and have breakfast on the fish island (this time is perfect, since the island is empty and not saturated with tourists around 12:00 or 16:00 pm. (Entrance to the Fish Island 30 Bs. per person not included) - Uyuni salt flat and hexagons - First Salt Hotel and giant Dakar salt statue. - Lots of salt - Salting eyes - Salt crafts in Colchani Finally we will be at 18:00 pm. in Uyuni.
THE PRICE INCLUDES:
• Full accommodation every night of the tour ( 2 nights lodging in DBL room with private bathroom and hot water) • Complete meals, breakfast, lunch and dinner plus drinks at meals (mineral water, coca cola, fanta, etc.) Breakfast - Tea, coffee, mate, milk, eggs, bread, jam, butter, fruit, etc. Lunch - Specialties such as Quinua Real soup and Llama steak. Dinner - Soups and hot meals for example (spaghetti with chicken) • Transfer to go to San Pedro de Atacama-Chile for the return (for tour ending in San Pedro de Atacama)
PRICE DOES NOT INCLUDE:
• Entrance to the Eduardo Avaroa National Park (150bs) • Entrance to the Fish Island (30bs) • Alcoholic beverages and others, for example: beer, chocolates, cookies, etc.
Uyuni Salt Flats 2022