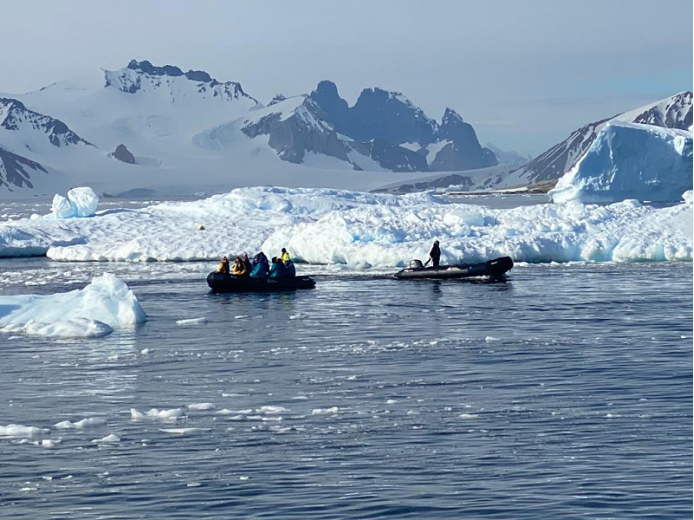 19 days / 18 nights
A wilderness experience in the Southern Ocean

The Falkland Islands (Islas Malvinas)

Visit to South Georgia

Explore the Seventh Continent




Aboard Magellan Explorer




Commission 10%



Day 1: Port Stanley, embarkation
Pick up at the airport in Port Stanley, town visit, and embarkation.
Day 2: Saunders Island, Carcass Island
During a morning visit to Saunders Island, we enjoy the long white-sand beach. A wilderness experience, the main attractions there are rockhopper penguins, nesting black browed albatross, and sub-Antarctic gentoo penguins. In the afternoon, we visit Carcass Island. There is an option for an easy hike to the settlement, bird watching, and a typical Falklands tea experience.
Day 3: Bleaker Island
Morning landing at Bleaker Island. This is a natural reserve with a famous bird area featuring a large variety of birds. In the afternoon, we head to South Georgia.
Day 6: Elsehul Bay
Evening Zodiac cruise at Elsehul Bay, subject to crossing and permits from the South Georgia government.
Day 7: Grytviken, Fortuna Bay / Stromness Morning landing at Grytviken,
We will clear Customs here and then visit the historical site, with the museum and Ernest Shackleton's grave. In the afternoon, landing at Fortuna Bay / Stromness. We will see king penguins and learn more about Shackleton and his expedition. There is an optional 2-3 hour "Shackleton walk".
Day 8: Salisbury Plain, Prion Island
Morning visit to Salisbury Plain for more king penguins and stunning landscapes. In the afternoon, visit Prion Island to see the nesting wandering albatross.
Day 9: St Andrews Bay, Cooper Bay
Morning visit to St Andrews Bay. We will see the largest king penguin colony, and elephant seal bulls. In the afternoon, visit Cooper Bay to see macaroni penguins on a Zodiac cruise.
Day 12: Elephant Island
In the afternoon, we will see Elephant Island. While a landing here is very unlikely, we will see the island from the ship or, if sea conditions allow, from a Zodiac
Day 13-16: Antarctic Peninsula,
South Shetland Islands Cruise along the Antarctic Peninsula and among the South Shetland Islands, visiting sites in the Antarctic Sound and in the Gerlache Strait. The voyage may include visits to sites such as Gourdin Island, Brown Bluff, Half Moon Island, Deception Island, Wilhelmina Bay, the Lemaire Channel, Cuverville Island, the Melchior Islands or other magnificent places.
Day 19:
Arrival in Ushuaia and disembarkation
Included in the Rate:
-Comprehensive pre- and post-voyage information material. -For guests visiting Punta Arenas, special access to Explorers House -Ship cruise as indicated in the itinerary corresponding to each expedition. -Daily buffet breakfast and lunch on board ship offering a wide choice of dishes. -Daily served dinner on board ship offering a choice of three main courses. -Wine, beer, juice, and soft drinks served with lunch and dinner on board ship. -Coffee, tea, chocolate, cappuccino, water and snacks on board ship throughout the expedition. -Loan of waterproof boots for landing. -All guided shore excursions. -Presentations and entertainment on board. -Landing fees and IAATO passenger fee.
Specifically not Included in the Rate
-Flights, accommodation, meals, excursions and transfers other than those included in the itinerary corresponding to each voyage. -Beverages purchased at the ship's bar. -Personal travel insurance. -Extra expenses (communication, laundry, souvenirs, etc.). Gratuities. -Visas for Chile, Argentina, and/or the UK, passport expenses, and any arrival and/or departure tax, if applicable. *KAY = Sea Kayaking in Antarctica. We recommend booking the Sea Kayaking program upon reservation of your trip. *HS = Hiking and Snowshoeing in Antarctica. Available for booking on board the ship at $85 per person, per excursion.
Falklands (Malvinas), South Georgia & Antarctica 2022