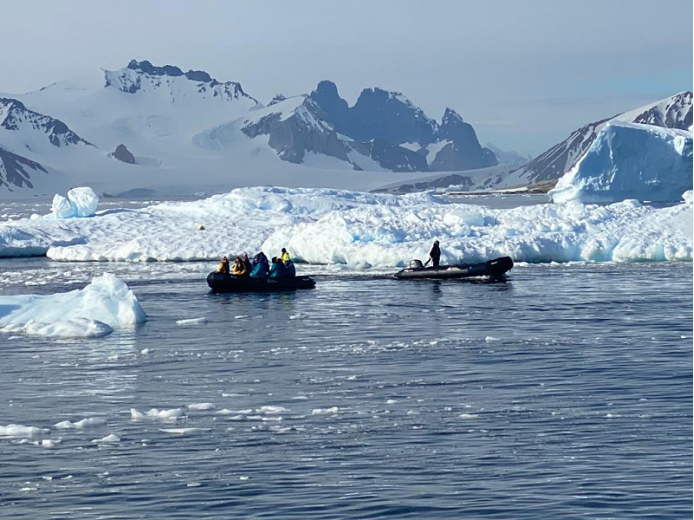 8 days / 7 nights
A chance to visit Cape Horn

The Falkland Islands (Islas Malvinas)

Combines perfectly with a visit to Patagonia


Aboard Magellan Explorer
Commission 10%
Day 1: Ushuaia, Embarkation
Your journey begins at the pier in Ushuaia, Argentina, with embarkation between 7 and 8 PM. Board your ship and sail along the Beagle Channel towards Puerto Williams, Chile, the southernmost town in the world, where the ship will clear formalities to approach Cape Horn.
Day 2: Cape Horn
After an overnight crossing of Nassau Bay, you awake in full view of legendary Cape Horn! Weather permitting, board a Zodiac and be one of the few privileged adventurers to step foot on this famous and rarely visited island. Sail and explore the area in depth before setting course north towards the Falkland Islands (Islas Malvinas).
Day 3: At Sea
As you sail through the South Atlantic en route to the Falkland Islands (Islas Malvinas), attend an engaging program of informative presentations. In the company of expert guides, watch for bird and marine life from the lounge or from the outside decks. You may spot magnificent seabirds, such as albatrosses and petrels, as well as different species of whales.
Day 4: West Falklands (south)
Ruggedly beautiful and remote, places such as New Island, Weddell Island or West Point are located at the extreme west of the Falklands' archipelago. See dramatic cliffs contrast with sheltered sandy bays and natural harbors. These areas host a large concentration of wildlife with lots of diversity. Some of the best wildlife experiences are just a short distance from the settlements.
Day 5: West Falklands (north), Carcass & Saunders
Named after HMS Carcass, which visited in the late 18th century, the terrain is varied with rocky ridges, steep cliffs, open plains, white sand beaches and coves. Saunders is the second largest offshore island and has very varied terrain, from rocky hills to sweeping shorelines. It is an important natural habitat for birds and offers exceptional wildlife viewing opportunities. All five breeding species of penguin can be spotted here along with black-browed albatross and many other birds.
Day 6: The Falkland Sound
You cruise down the Falkland Sound, sightseeing its rugged and untouched landscapes. We immerse ourselves in the past and recent history of the islands. You visit settlements and meet the locals, getting to know the culture of farming families. As we stop at sites that were active battlefields during the 1982 conflict, our historians introduce us to regional geopolitics.
Day 7: Port Stanley
Join our expedition team on guided walking tours in town or to Gipsy Cove. Or take the option to explore on your own and absorb the atmosphere, grabbing lunch at the local pub, visiting the maritime museum, the church, hunting for souvenirs or walking down Ross Road, paying tribute at the war memorials at the waterfront.*
Day 8: Disembarkation
Transfer to the airport at Mt. Pleasant will be provided from the ship according to the scheduled flight.
Included in the Rate:
-Comprehensive pre- and post-voyage information material. -For guests visiting Punta Arenas, special access to Explorers House -Ship cruise as indicated in the itinerary corresponding to each expedition. -Daily buffet breakfast and lunch on board ship offering a wide choice of dishes. -Daily served dinner on board ship offering a choice of three main courses. -Wine, beer, juice, and soft drinks served with lunch and dinner on board ship. -Coffee, tea, chocolate, cappuccino, water and snacks on board ship throughout the expedition. -Loan of waterproof boots for landing. -All guided shore excursions. -Presentations and entertainment on board. -Landing fees and IAATO passenger fee.
Specifically not Included in the Rate
-Flights, accommodation, meals, excursions and transfers other than those included in the itinerary corresponding to each voyage. -Beverages purchased at the ship's bar. -Personal travel insurance. -Extra expenses (communication, laundry, souvenirs, etc.). -Gratuities. -Visas for Chile, Argentina, and/or the UK, passport expenses, and any arrival and/or departure tax, if applicable. **KAY = Sea Kayaking in Antarctica. We recommend booking the Sea Kayaking program upon reservation of your trip. **HS = Hiking and Snowshoeing in Antarctica. Available for booking on board the ship at $85 per person, per excursion.
Ushuaia, Cape Horn & Falklands ( Malvinas) 2022