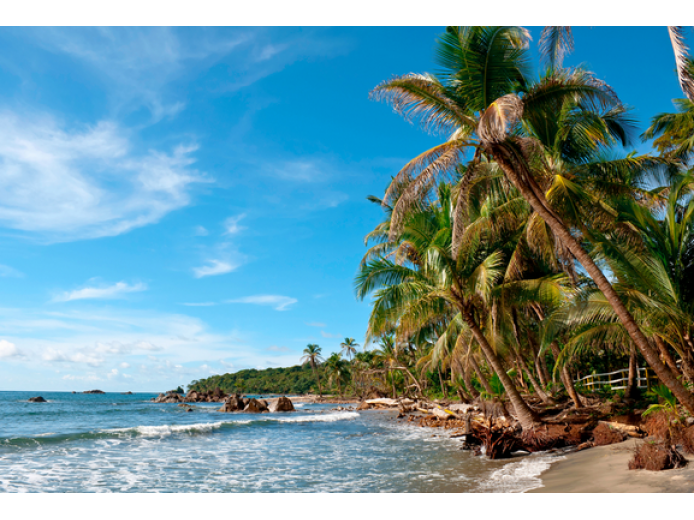 9days/ 8 nights

"Three cities of Panama"-
Embera tribe - National Park Chagres-Caribbean side
Day 1: Panama Airport-Hotel
Transfer from Panama airport to your hotel. Overnight At Sercotel ½ Twin room BB
Day 2: City tour "Three cities of Panama"
Full day tour. Panama City was founded in the XVI century by Spanish conquistadors. It was the first Spanish port on the Pacific. Now the capital has three towns: the "old town" (Panamá Viejo), the "colonial" town (Casco Antiguo, Spanish for Old Quarter) and the "new town" (Modern Panama). The Panamá Viejo is an exceptional testimony of colonial town planning; the ruins of its cathedral, convents and public buildings showcase unique technological and stylistic characteristics of its temporal and cultural context; and Old Quarter represents a significant stage in the development of Spanish colonial style. Both Panamá Viejo and Old Quarter have been declared UNESCO World Heritage sites. We will visit old and modern parts of the city, starting from the Former Canal Zone where the Americans lived during the construction of the Panama Canal, and ending with the Balboa Avenue, one of the most beautiful streets of the city along the bay. The historic quarter of Panama City, Casco Antiguo, is a colourful neighbourhood with nice avenues, parks, and squares. You will visit France Plaza, San Jose Church with the famous Golden Altar, Bolivar Plaza, and Cathedral Plaza with the Panama Canal Museum. Then, we will go to Amador Causeway, one of the most interesting parts of the city. It is a long, winding road that connects three smaller islands: Naos, Perico, and Flamenco. Lunch options starting from $25 per person depending on a menu and beverages. Panama Viejo opens Tue – Sun Overnight At Sercotel ½ Twin room BB
Day 3: Embera tribe in National Park Chagres
It's the best way to go back in time to the beginnings of the civilization. You will go wild with this outstanding tour to the heart of the jungle, to where the native Panamanian Indians still live in total harmony with Mother Nature in the village of Tusipono in the Chagres National Park. This tour will get you out of the XXI century comfort zone and will make you look differently at the magic of life. You will learn about the pre-Columbian history of Panama, the origin of the Embera tribe, their customs and traditions. They make incredibly beautiful and sophisticated baskets, tagua nut carvings, necklaces, bracelets, etc. Refresh your mind and body in cool and crystal clean waters of a tropical waterfall, dance with the Indians their ancient dances, try delicious local food, feel the fresh air on your face and get totally renewed at the Chagres National Park. Pick up from the hotel at 08:00 AM. Back to the hotel at 04:00 PM. * We highly recommend wearing closed running shoes with laces. On the way to the waterfall, you have to cross the river. Be ready to get your shoes wet, the level of the river may vary according to the season. Includes: round trip transportation, waterfall, embera boat "piragua" ride on the river, visit to the village and connecting with the locals, lunch (fish and plantains, fresh fruits), souvernirs and dances at the village. Guide, lunch, transportation, boat ride, all entrance fees – are included. Duration 8h Overnight At Sercotel ½ Twin room BB
Day 4 (option 1)
San Lorenzo fortress, new locks Agua Clara on the Caribbean side: Today we will go to the right side of the Panama Canal heading towards the San Lorenzo National Park. The San Lorenzo Fort was built by the Spanish in 1596. Standing at the farthest point, 25 meters above the sea level, to get a clear view of the Chagres River and the Caribbean Sea, you can only wonder how many people admired the same view during these 400 years of history of the fort. Also, we will visit Agua Clara locks, opened in 2016, those impressive mega structures allow post-Panama ships cross the Isthmus. Lunch is included and will be served at The Dock restaurant, located at Shelter Bay Marina on a former USA military base Sherman. It will be a full of Caribbean flavours delicious experience. Duration: 6 hours approx. San Lorenzo fortress is closed for visitors on Mondays. Lunch: From $30 per person not included. Should be paid apart.
Day 4 (option 2)
Portobelo fortresses and La Angosta beach: The Caribbean side of Panama with beautiful virgin beaches, islands, and bays, will tell you about the history and the conquest of Portobelo. Once a destination for huge amounts of gold and riches extracted by the Spanish from the South America, Portobelo was subject to numerous raids and was highly coveted by notorious pirates such as Francis Drake, Henry Morgan, and Edward Vernon. Trying to save his treasures from the pirates, King Philipp II of Spain ordered a fortress to be built on the Caribbean coast. Some of these forts can be seen nowadays including San Lorenzo, San Geronimo, Santiago de la Gloria, San Fernando, and San Fernandin. In 1980, the ruins of the fortification, along with the nearby San Lorenzo Fort, were declared a UNESCO World Heritage site. Portobelo is an old colonial town with rich Afro-Panamanian traditions including delicious Caribbean-style gastronomy. We will tour the impressive sights including San Geronimo, Santiago de la Gloria, San Fernando and San Fernandin forts. Some of Portobello's favourite tourist attractions are the Royal Customs house and San Felipe Church, also known as the Black Christ Church. Afterwards a nice boat ride will wait for you to overview the fortresses from the bay and visit a beautiful Caribbean beach Playa Blanca and Venas Azules mangroves. Traditional seafood and fried plantains (or coconut rice) lunch is included Lunch from $30.00 per person not included We can add a folk show of Afro Panamanians drams and dances at an extra charge Overnight At Sercotel ½ Twin room BB
Day 5: Valle de Anton and Hato Viejo agrotouristic farm*
Panama City and the Province of Panama are two different worlds. The capital is known as a fast-growing modern city, and on the province is quiet and calm, very cozy and slow. Anton Valley is an inhabited volcano crater. It is a picturesque town located 750 m above the sea level; it has its microclimate that makes everything here so spectacular. Anton Valley is one of the two inhabited volcano craters in the world. You will visit Central handicrafts, fruits & veggies, and flowers market, El Nispero Botanical Garden & Zoo, the Petroglyph, the Chorro del Macho Waterfall, here we will be able to swim in a natural freshwater pool (we can exchange natural pool with hot springs). One of Anton Valley's favorite tourist attractions is the legendary Sleeping Indian Girl, a mountain that is shaped like a sleeping girl. Beautiful views, fresh air, abundant flora, and fauna – visiting this place is a must do in Panama. On the way back we will stop for lunch at a Panamanian rancho to see how farming in Panama is handled and lave some traditional lunch. Transfer to Bijao Resort 4* All Inclusive Lunch: from $26 per person
Day 5 – Day 9:
4 nights at Bijao beach resort, All Inclusive 4* DBL Deluxe Garden View Room
Day 9:
Transfer Bijao Resort – Panama City For your outward flight
Notes!
• These prices are not valid between February 17 and February 21 due to Carnival. • Hotel prices will be reconfirmed only after official request with dates. • Guides working with the group are bilingual Spanish/English, professional, with proper certification by Panamanian Authority of Tourism • 1 courtesy for tour conductor is considered for tours and transfers. Free hotel accommodation and free lunches will depend on the policy of every exact provider. • We can leave the group for the night 5 in the city, it will make the tour a little bit cheaper and will give the group some time to go shopping, for example. • Water is included in all transfer and tours transfers
Amazing Panama 2023 for Groups of 40 pax